ERC 101 is an undergraduate teaching laboratory. The procedures for reserving and using the room, as well as the policies to be used in making scheduling decisions are described below.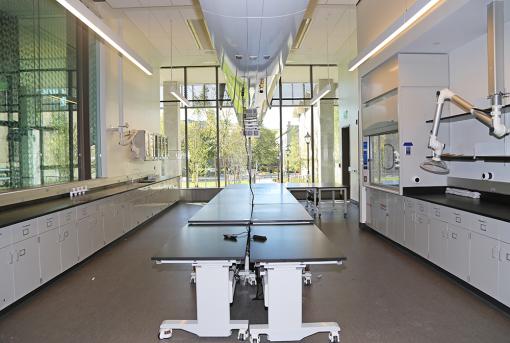 Capacity:
24 people
Equipment:
ERC 101 contains specialized equipment in support of the Chemical and Environmental Engineering labs. There is also a projector, screen, and whiteboard.
Procedures: 
Requests for lab classes in ERC 101 will be reviewed by the Senior Associate Dean.
Food is not permitted in ERC 101.
Scheduling Guidelines:
As a first step in minimizing scheduling conflicts, users are asked to book only for those times for which there is a very high likelihood that the planned activity will take place and to release the scheduled time as soon as it is known that a scheduled activity will not take place. 

Secondly, users reserving a space should also understand that there may be times when they will be asked to reschedule or relocate their activity because the space is needed for another activity that is regarded as having higher priority. If scheduling conflicts arise that cannot readily be resolved to the satisfaction of the users involved, then these conflicts will be referred to the Dean of Engineering who, in consultation with the chairs of the departments with competing claims, will make the final decision. 
Scheduling Policies:
Groups of more than 20, who are having an event including food, must request event clean up support and furniture movement (as needed) from Facilities Management.
All groups using the conference rooms are responsible for clean-up, putting chairs and tables back in their original position, turning off lights and monitors, and shutting and locking the door when done.
Access to Conference Rooms (except ERC 204, ERC 205, and ERC 206) on the weekend and after hours (5 pm - 6 am) will require a faculty or staff host.
Reservations for any space more than six months in advance will need to be reviewed before approval.
Reservations made within 24 hours of an event cannot be guaranteed.
Access to ERC:
The exterior doors for the ERC are open 6:00 am - 7:00 pm M-F. Please do not prop open doors. Staff support hours for the ERC are 8:30AM - 5:00PM. Please email soefmop@brown.edu with any questions.
All Brown students (per the Provost's list) may access the ERC via card swipe from 7:00 pm to 11:00 pm.
The engineering and physics community may access the ERC via card swipe from 7:00 pm to 6:00 am.
Anyone with questions about reservations, including recurring reservations, should email soe-reservations@brown.edu.