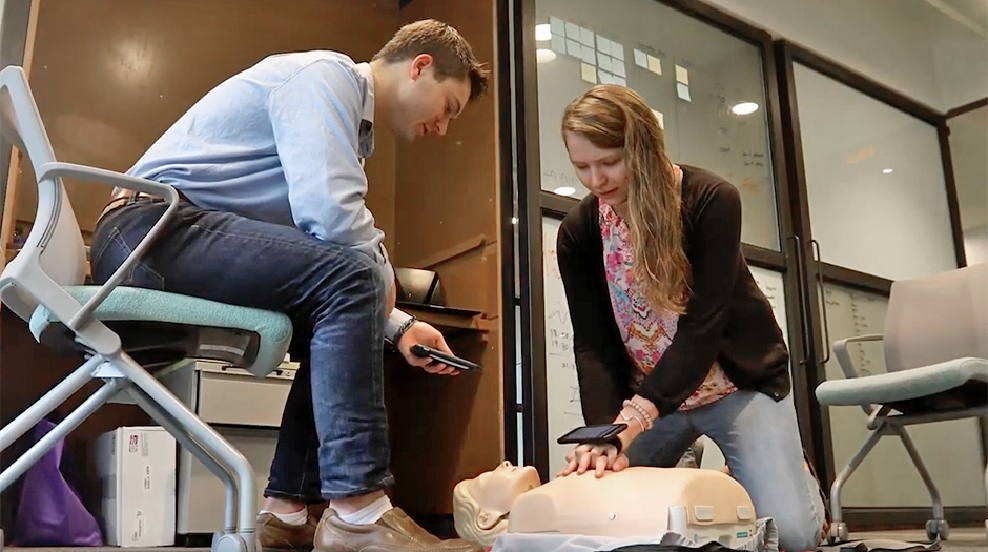 Brown School of Engineering's Abigail Kohler '20 (biomedical engineering) and Greg Fine '20 (electrical engineering) were recently named to Rhode Island Inno's second annual Inno Under 25 list. Kohler and Fine were among six Brown University students named to the list of 15 young Ocean State innovators.
The pair spent their summer months in Providence at Brown University's Breakthrough Lab, an intensive 8-week accelerator program designed to support student entrepreneurs and their high-impact ventures, developing ResusciTech, a device that gives first responders feedback on cardiopulmonary compressions in realtime.
ResusciTech aims to produce a wearable CPR aid to improve the quality of chest compressions. Currently, CPR only has a 40 percent success rate, primarily because of failure to follow CPR guidelines. Rescuers are often stressed and become fatigued as they are performing CPR, making it difficult to maintain the required compression depth and frequency. Studies indicate that this could be improved significantly by providing real time feedback to first responders, helping them to adjust their compressions to give victims the best chance of survival. Kohler and Fine's device aims to do this by using a proprietary design and simple user interface that is streamlined for rescuers to use in emergency situations. This will result in higher rescuer confidence in their performance of CPR, as well as increased quality of care and survival rate for victims of cardiac arrest.
"We're excited to bring this idea forward and we're very thankful for all of the support from the Nelson Center for Entrepreneurship and the School of Engineering," Kohler said.
Rhode Island Inno's second annual Inno Under 25 list seeks to acknowledge and celebrate those innovators who are driving change for the better before their 26th birthdays and includes trailblazers from all over the Ocean State. The recipients were selected from reader nominations, relevant news and other editorial insights.