Diversity is a vital component of any university. Exposure to a broad range of perspectives, views and outlooks is key to fostering both breadth and depth in intellectual discovery and furthering research.
The School of Engineering seeks to promote diversity, inclusion and fair treatment of all members of the community.

In a time when the importance of geographic boundaries has been virtually eliminated by emerging technology, the importance of diversity and the understanding of different perspectives play a key role in the functioning of our society.

Brown University is founded on the ideals of academic inclusiveness and the benefits of a liberal education. These principles are held strongly at the School of Engineering, where this philosophy has developed into a culture of multidisciplinarity that crosses many intellectual boundaries. The School of Engineering's success through creative and collaborative approaches are a testament to the benefits of inclusion and working with a variety of diverse perspectives.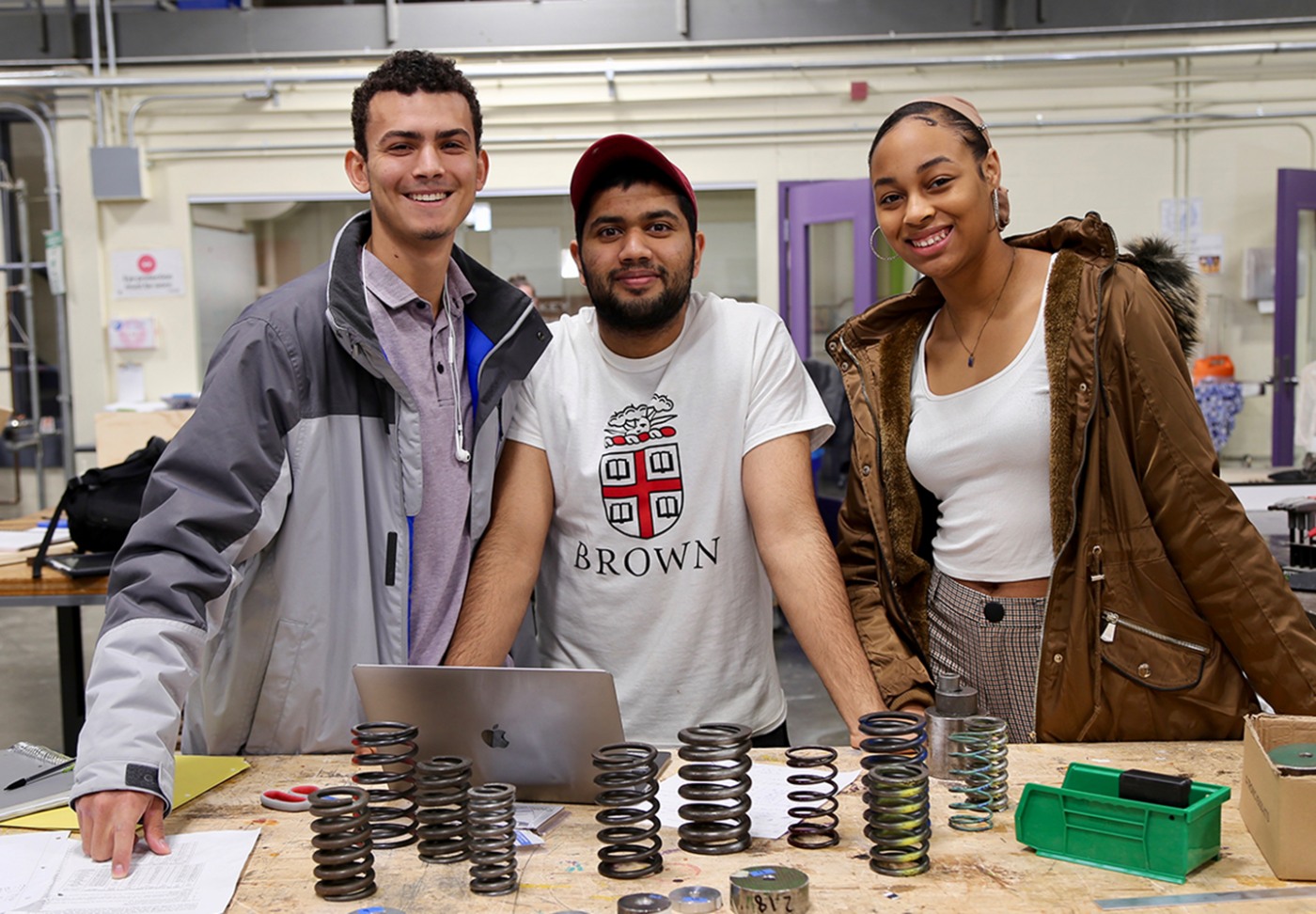 Diversity is therefore a foundational element, which facilitates our educational and research goals, and the School is keenly aware of how enhancing historically under-represented populations in our engineering community furthers achievement of these goals.

We acknowledge the challenges and the opportunities of achieving diversity, particularly in the fields of engineering, which is why the School is strongly committed to developing these efforts at both the graduate and undergraduate levels.

Efforts to engage students through student organizations and support/retention programs are a priority for the School. Many new initiatives are planned in these areas for the near future, and those with new ideas or support for our efforts should contact Senior Associate Dean Megan Russell for further discussion and brainstorming.  
Diversity and Inclusion Action Plan
After a thoughtful and wide-ranging dialog with our community during the spring of 2016, the School of Engineering has crafted a Diversity and Inclusion Action Plan. This represents the beginning of a process, and we expect that it will be constantly updated, assessed, and refined in the years ahead.
Staff Diversity and Inclusion Statement
The staff of the School of Engineering believes that we are enhanced by, and achieve success through, the teamwork and contributions of diverse community members' ideas, life experiences, perspectives and cultures. We are committed to the values of equity and inclusion for their academic, social, and broader community benefits.
Each of us is dedicated to learning and actively engaging in our own development to support the changing needs of our community. The staff demonstrates this by consciously reflecting on their learning and development to better advocate for our constituencies. We actively embrace the differences that enrich our community and make us great.
Our beliefs and actions promote and foster the School's culture of inclusivity, compassion, and mutual respect. Our open and welcoming environment makes our School a stronger organization.
Presidential Diversity Postdoctoral Fellowships
This program identifies promising Ph.D. graduates from underrepresented groups and/or those who have demonstrated support for underrepresented groups through their teaching and research to spend up to two years at Brown University. More information on how to apply and previous cohorts can be found through the Office of Institutional Equity and Diversity.
Resources
For more information, please contact the Office of Institutional Equity and Diversity