Engineering Associate Professor Kareen Coulombe's Engineered Cardiac Tissues for Regeneration received the most votes and was crowned Innovation of the Year at the first Innovation@Brown Showcase, an opportunity for Rhode Island's entrepreneurs, startup founders, venture capitalists, and industry leaders to preview cutting-edge technologies, startups and innovative ideas emerging out of Brown University. 
Three of the top six finalists for Innovation of the Year also came from engineering professors Arto Nurmikko, Yue Qi and Brian Sheldon, along with the mathematics department, Carney Institute and BioMed/Neurosurgery. Awards for Startup of the Year and Inventor of the Year were also given to Brown University-affiliated ventures. 
With support from Brown Technology Innovations (part of the University's Office of the Vice President for Research), Brown faculty can transition research ideas into impactful commercial ventures. The inaugural Innovation@Brown Showcase was a celebration and effort to build on these developments, providing an opportunity to meet investors, academic researchers, entrepreneurs and regional leaders to learn more about the growing ecosystem around Brown.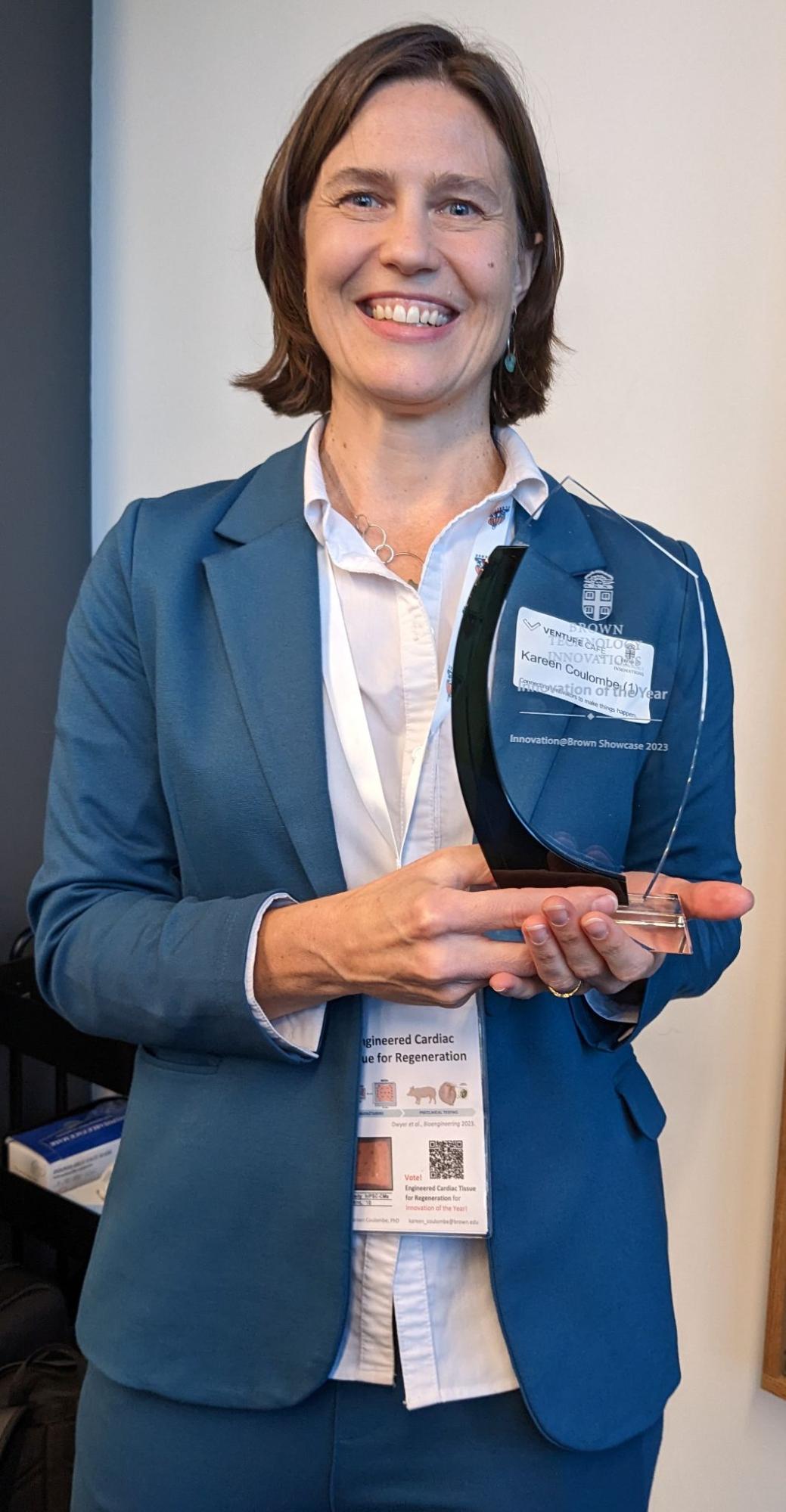 Of the more than 700 votes cast for Innovation of the Year, Coulombe received the most votes. The technology uses custom biomanufacturing to create cell-dense engineered human myocardium that delivers up to one billion cardiomyocytes (heart muscle cells), which are killed during a massive heart attack. Regenerating heart function requires delivering new muscle mass with very high cell density to the injured heart and integrating the implant with the host heart. The tissue engineering innovations of Coulombe and her co-inventors, students Kiera Dwyer and Rajeev Kant, create electromechanically functional tissue with the highest dose of cardiomyocytes derived from human pluripotent stem cells ever reported for a cardiac therapy. 
The research was published in May 2023 in the journal Bioengineering and showed engraftment of the engineered cardiac tissue in a translationally relevant preclinical swine model of chronic myocardial ischemia, supported by pilot funding from the NIH-supported CardioPulmonary Vascular Biology Center of Biomedical Research Excellence. Coulombe is an Associate Professor of Engineering, recipient of an National Science Foundation CAREER Award, and has a research program in heart regeneration, revascularization therapies, and in vitro cardiac models for drug discovery and toxicity assessment.
Nurmikko, the L. Herbert Ballou Professor of Engineering and Physics, is a Fellow of the American Physical Society, Fellow of the Institute of Electrical and Electronics Engineers, and Fellow of the Optical Society of America. He has been elected to the American Academy of Arts and Sciences and is a foreign member of the Finnish Academy of Science and Letters. Nurmikko's research fields encompass electrical engineering, physics and brain sciences, with a particular focus on neuroengineering, nanophotonics and microelectronics. 
His technology innovation, Subcutaneous EEG for Chronic Home Use was a finalist. Accurate, reliable, long-term monitoring of brain activity by low-cost wearable devices at home and outdoors could provide valuable and clinically critical neurological diagnostic information for patients, such as those with epilepsy. This technology is based on a unique highly miniaturized minimally invasive subdermal EEG sensor strip design (millimeter-wide, less than quarter millimeter thick). The technology is scalable in that multiple unobtrusive sensor strips, covering several brain areas, can transmit EEG signals wirelessly through the scalp to an external coin size external receiver behind the ear.
Qi and Sheldon's Method to Reduce Dendrite Growth for Safe Solid Electrolyte Batteries was also an Innovation of the Year finalist. Currently available battery technology is predominantly based on liquid electrolytes which are prone to fires, thermal runaway and pose a safety risk during operation. Newer rechargeable batteries utilize solid electrolytes which offer the promise of improved safety. However, current solid-state batteries can still fail due to short circuits resulting from metal filament penetration introduced from stress fractures formed over the life of the battery from repeated charge/discharge cycles. This invention introduces a method for "pre-stressing" the solid electrolyte by replacing lithium ions on the surface with larger ions. These larger ions introduce compressive stress into the solid electrolyte thus offering the promise of improving the cycle life of the batteries and thereby potentially leading to safer, commercially viable solid-state battery technology. 
Qi and Sheldon are both faculty leaders of Brown's new Initiative for Sustainable Energy, with Qi serving as Deputy Director. She is the Joan Wernig Sorensen Professor of Engineering, and her laboratory (Materials Simulation for Clean Energy) develops multi-scale simulations methods to design materials atom by atom. All of the materials she studied are critically important for an energy-efficient and sustainable future. Professor Sheldon is co-director of the General Motors/Brown Collaborative Research Laboratory on Computational Materials Science, and has research interests in carbon based materials, energy storage materials, composites, advanced ceramics and high temperature materials.