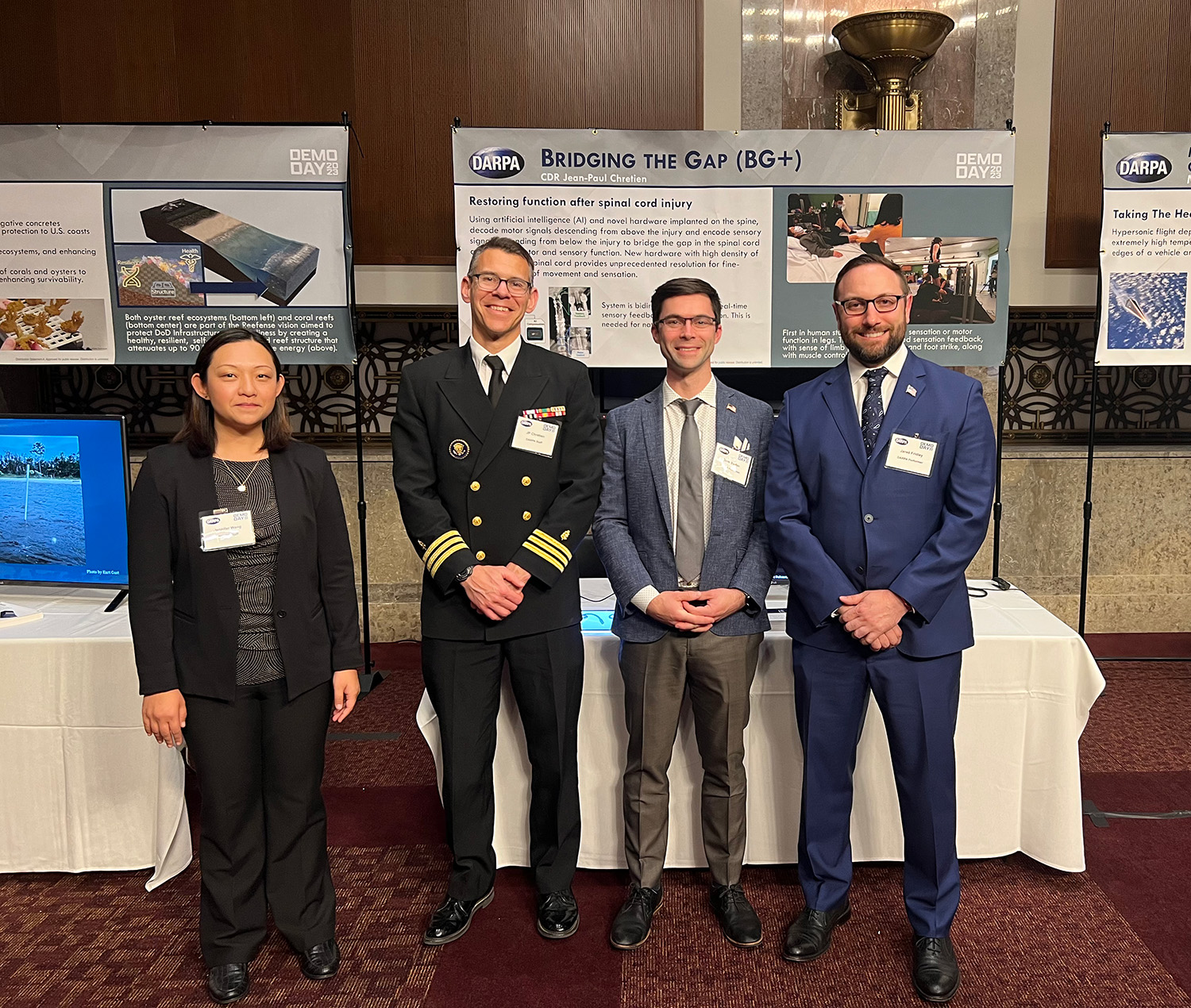 Intelligent Spine Interface (ISI) researchers David Borton, Ph.D, and Jared Fridley, M.D., presented their research to the U.S. Congress at the Defense Advanced Research Projects Agency's (DARPA) 2023 Demo Day. Researchers presented their work in Washington, D.C. on April 18 to the U.S. Senate and on April 19 to the U.S. House of Representatives. They are one of only ten teams chosen to share their work. The clinical trial designed to test the ISI is sponsored by Rhode Island Hospital, with both DARPA and the Veterans Affairs Medical Center (VAMC) collaborating. 
The Intelligent Spine Interface (ISI) is a groundbreaking clinical trial aimed at restoring limb movement, sensation and bladder control in individuals who have suffered spinal cord injuries using an implant developed by the Center for Innovative Neurotechnology for Neural Repair (CINNR), a one-of-a-kind lab space in Providence. Borton and Fridley are testing whether the implanted ISI device can be seamlessly integrated into the body's nervous system, helping to bridge the gap in neural circuitry resulting from a spinal injury. 
"We know that circuits around a spinal lesion often remain active and functional," said Borton, principal investigator and associate professor of engineering at Brown University, associate professor of brain science at the Carney Institute for Brain Science at Brown University, and associate professor of neurosurgery at RIH/Lifespan; and biomedical engineer at the Providence VA Health care Center for Neurotechnology and Neurorestoration (CfNN). "We're taking the signals out of the body from those functional circuits, translating them through advanced neural networks, then sending them to the other side of the lesion, in a bidirectional way." 
"Our hope is that by using machine learning, while restoring the two-way signal flow from limbs to brain and bridging the gap of injury, we can gain a life-changing understanding and a real clinical tool to aid patients with spinal cord injury," said Dr. Fridley, associate professor of neurosurgery at The Warren Alpert Medical School at Brown University and a neurosurgeon at Lifespan's Norman Prince Spine Institute (NPSI). "Better understanding these neural networks would be a groundbreaking step."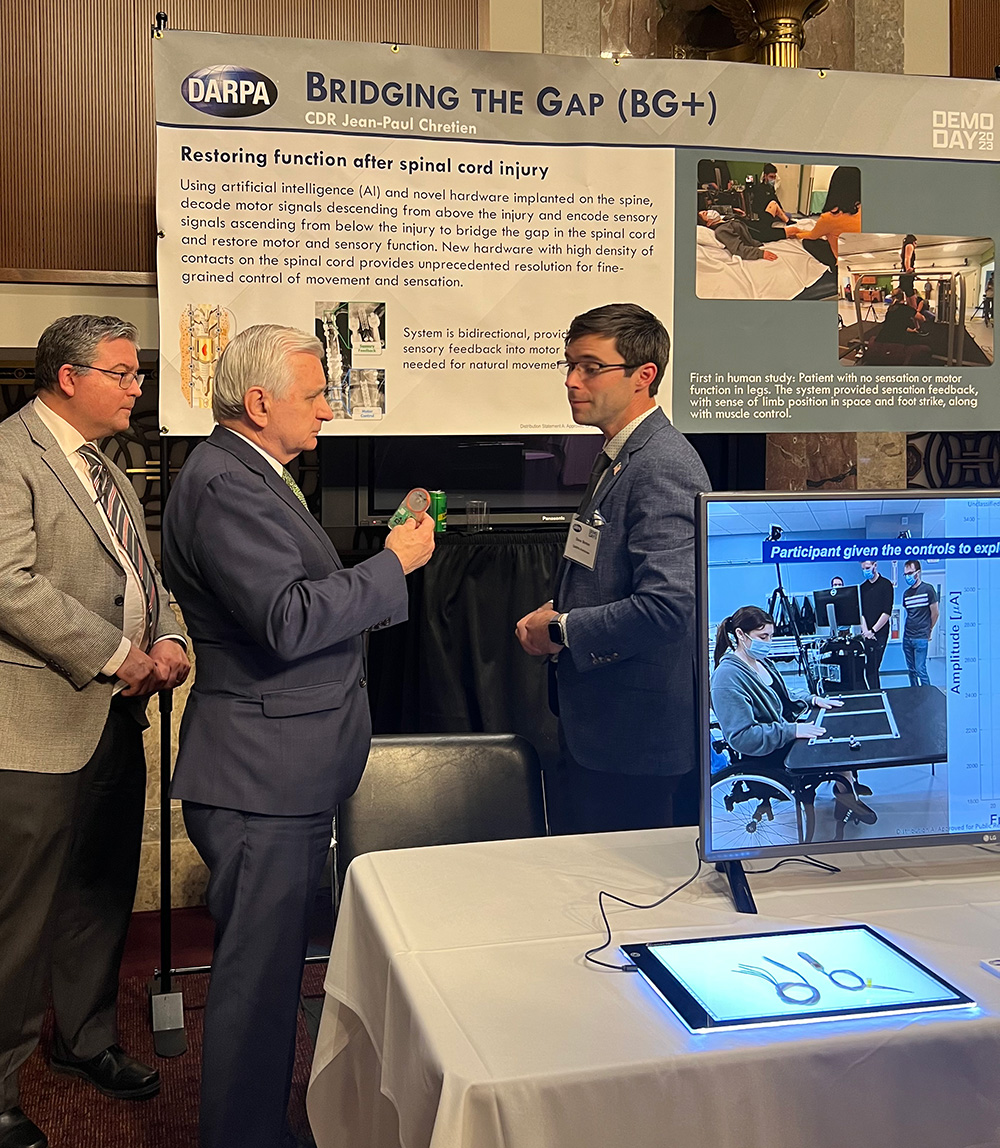 "I'm pleased to deliver DARPA funding through the National Defense Authorization Act to support critical research like this intelligent spinal interface project spearheaded by Brown University, Rhode Island Hospital, Lifespan, and their partners," said U.S. Senator Jack Reed (RI), the Chairman of the Senate Armed Services Committee, and a senior member of the Appropriations Committee. Reed leads the annual charge to provide DARPA funding, and in 2019 supported the $6.3 million to help launch this project. "Brown and Lifespan are developing promising, cutting-edge technology. The advancements these researchers are making could yield new breakthroughs and transform rehabilitation and recovery from spinal cord injuries. I am proud to deliver federal funding for promising DARPA research, including over $13 million directed to Rhode Island-based organizations and academic institutions over the last two years."
"I was pleased to welcome the team from Rhode Island's own Center for Innovative Neurotechnology for Neural Repair to Congress for DARPA 2023 Demo Day. David Borton and Dr. Fridley's cutting-edge work holds promise for wounded veterans and other patients with spinal injuries," said U.S. Senator Sheldon Whitehouse (RI-2). 
"The Center for Innovative Neurotechnology is breaking barriers and showing the neuroscience community – and the rest of the world – how important it is to fund and support cutting edge research," said U.S. Representative Seth Magaziner (RI). "Rhode Island is proud to be represented at DARPA's 2023 Demo Day by the Intelligent Spine Interface researchers from Lifespan and Brown University. This project will change the lives of people across the country struggling with spinal injuries, especially the brave veterans who sacrificed to serve our country." 
To learn more about CINNR and the ISI study please watch this video presentation. To learn more about the ISI clinical trial, please review the Study Record Detail on the National Institute of Health's Website.