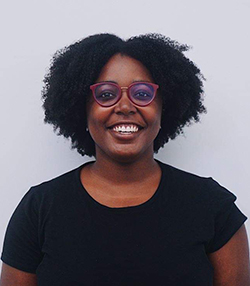 Kiara Lee, a doctoral student in biomedical engineering, was recently published in ACS Analytical Chemistry for her research on a new testing method of dried blood spots (DBSs).
Lee's research provides a new, simpler way to test DBSs, which are commonly used to analyze blood for a variety of purposes, including pharmacological testing, genetic analyses, monitoring of viral infections and more. DBSs are an alternative method to collect blood for disease testing because their collection is less invasive than other techniques. 
Up to this point, analyzing a DBS sample for viruses or antibodies involved several steps that used specialized equipment, took a long time (40 minutes to more than 24 hours), and often required additional steps to purify or clean the samples. 
"We sought to explore ways to reduce the analytical burden of DBSs by developing an extraction method that uses electric fields to simply extract DNA from the dried blood spots," Lee explains. This method extracts DNA from DBSs in five minutes and does not need any extra steps to clean or purify the DNA.
Lee worked with John Murphy, Research Engineer/Technician in the BioMed Machine Shop and Anubhav Tripathi, Professor of Engineering at Brown, who also contributed to the publication.
The route to the improved testing process involved several steps, including evaluation of the current methods. Lee started the project working with Murphy to develop an electrical device for the project. . 
Through trial and error they found the best device for the testing. From there Lee began work on the paper in February and finished in May. She partnered with Vinald Francis, a biomedical illustration and visual design specialist at Brown, whose artwork was selected to be on the cover of the journal.
Moving forward, Lee shares that this work has the ability to improve the control of infectious diseases globally. The less time required to test, the quicker a diagnosis can be shared. Ideally quicker testing with minimal equipment can facilitate the development of smaller laboratories that don't require a lot of resources and therefore can be built in various areas of a country or city.
"This work was a fantastic start to a series of projects to extract various types of molecules from dried blood spots," shares Lee. She is hopeful that it can be used to investigate diagnoses of viruses and other diseases, the detection of drug compounds for drug testing, and also the physical properties of DBS sample extraction.
This type of research is firmly at the center of Lee's interests. In addition to nearing the completion of her doctoral degree in biomedical engineering, she is in the Open Graduate Education program, which allows her to complete a master's degree in an alternate field. For Lee, that's global public health. After graduation she hopes to continue work at the intersection of these two fields. 
"This work relates to my goals by being an engineering solution developed with the idea of burden of  lab-based analyses in resource limited areas (rural areas, low resourced areas (like an area in war or in conflict), underfunded areas, etc.)," says Lee.
Lee completed her bachelor's degree in Bioengineering at the University of Pittsburgh and is originally from Northern Virginia.