Brown's School of Engineering recently awarded its annual Spirit of Excellence and Dean's Service awards for the 2021-2022 academic year. Communications specialist Beth James won the Spirit of Excellence award, while senior technical assistant Ben Lyons received the Dean's Service award.

The Spirit of Excellence Award was created in 2015 and is given annually to an employee who brings new and innovative ways to do their work, and embraces the vision of the School of Engineering through his or her accomplishments during the previous academic year.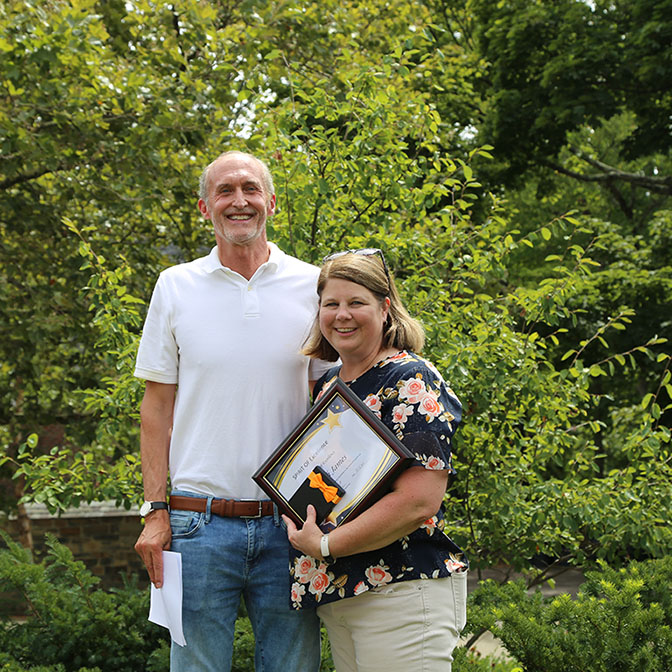 James worked on several additional projects this year, and her work on existing events changed due to COVID, but she adapted seamlessly. She was praised by both faculty and staff for her professionalism and outstanding service in helping to plan and execute both the Home Health Technologies '32 virtual workshop in February and the annual Graduate Student Visit Day in March. In both cases, the other organizers praised James for her help throughout the events. 
HHT'32 was a high-level virtual workshop planned in conjunction with the Office of the Vice President for Research and James was the lead for the School of Engineering.
"Beth was instrumental to its success. We would not have had such a nice event without her dedication to detail, creativity,  and hard work," said Senior Associate Dean and HHT'32 lead organizer Professor Kimani Toussaint. 
Graduate Student Visit Day was planned together with Student Affairs, was in person and was the largest it has ever been, bringing a record number of PhD admits to campus. 
"Beth was an integral part of the planning and execution of this event -- we literally could not have done it as well without her," said an SOE colleague. "Beth was tireless and highly attentive to what was needed to make this event successful for the School of Engineering and the Student Affairs team. Her methodical approach to getting things done was inspirational and built a confidence in the rest of the team that everything requiring attention was completely covered. Beth can put out small fires like no one else I know, and she does so with great calm and precision." 
Several times during the year, James had to pivot as the University switched from in person to virtual events, which involved canceling hotels, food, etc. and/or placing new orders, frequently at the last minute. She did this seamlessly, with a positive attitude (despite the loss of her previous planning and work), and the virtual or revised in person events all turned out well. James was also a tremendous resource as the School held its first in person Commencement in three years, which included some new events. She frequently goes the extra mile, beyond her basic job duties, in planning events - picking up supplies, or an award, or coffee, or whatever might be needed to ensure that everything runs smoothly. She does this without fanfare and behind the scenes to ensure a successful event.  
One area where James helped to move the School forward was social media. She was a significant contributor to social media campaigns throughout the year, helping brainstorm ideas, write content, and work with student groups. The School's women's history month campaign in March was particularly successful and received national attention throughout the month from the National Women's History Alliance.
The Dean's Service Award, established during the 2012-13 academic year, was created to recognize a non-managing employee who has made a specific contribution or provided outstanding service in the School of Engineering. Presented annually, it recognizes the performance of an individual who has been a positive instrument of change, made significant contributions, and who has provided outstanding service to our internal and external constituents.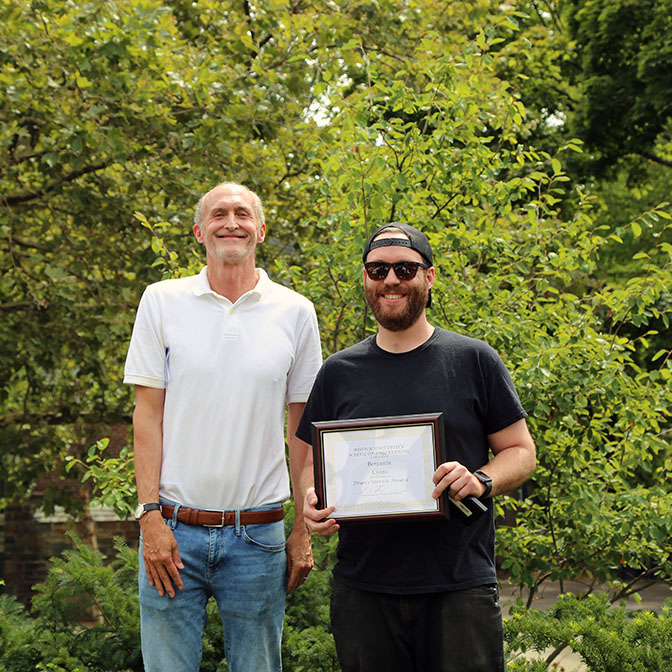 Lyons is a well-respected member of the technical assistant support team in the School of Engineering. He has made significant contributions to the instructional labs and projects in a large number of courses. Lyons has delivered exceptional faculty-sponsored research support to the fluids, chemical, and environmental engineering groups, and has become a valuable technical support member for the Brown Design Workshop.
Lyons has a positive attitude and impact with the students when demonstrating course labs. He genuinely desires to help everyone who comes to him and is extremely customer focused and committed to exceptional service. Undergraduate and graduate students unanimously praise his support, dedication, and sincere care for their need to succeed. As one of them has highlighted, "Without Ben's dedicated support I would not be able to defend my Ph.D. thesis on time."
Lyons has offered support for the Dean's office initiatives and is consistent in getting the job done quickly and efficiently. For example, every year Ben has signed up to work the School of Engineering Commencement and this year he went above and beyond in helping respond to a medical emergency during the event. As one of the manager's described, "Ben carefully and compassionately assisted our guest, but he also demonstrated excellent leadership skills and kept people level-headed around the guest."
This award is a long-deserved recognition of Ben's service accomplishments over more than a decade.