Brown Engineering Assistant Professor Daniel Harris was honored with the Excellence in Research Mentoring Award, given to recognize and reward Brown University faculty who have shown exceptional commitment in mentoring undergraduate researchers, as well as for their promotion, encouragement, and training of diverse students in undergraduate research. The formal presentation of the award was held on Friday, August 5 at the University's annual Summer Research Symposium in Sayles Hall on the Brown campus, where almost 200 undergraduates gathered on August 4 and 5 to present the results of their research.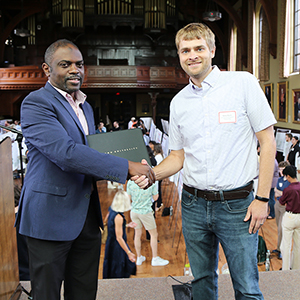 "Professor Harris' commitment to empowering students through research is not limited to his proactive recruitment of undergraduate students to his lab, but also includes his tremendous  efforts to create and revamp engineering courses with the (Brown University) Sheridan Center," said Ian Ho '22 in one of several letters in support of Harris for the award. "I believe that Professor Harris is deserving of this award because despite his short time at Brown, he has already proven to be one of Brown's biggest champions for undergraduate research. My extremely positive experience with Professor Harris' mentorship is not unique to me." 
Other nominations for Harris praised his work as a great undergraduate research mentor as well as his commitment to foster inclusion in STEM research by providing opportunities for a diverse range of students, including through the disruptions caused by the COVID-19 pandemic. The award carries a cash prize to be used as research funds.
In 2021, Harris was awarded the School of Engineering's Dean's Award for Excellence in Teaching in Engineering, in part for his role in the creation of undergraduate lab kits sent directly to students who were learning remotely throughout the semester due to COVID-19. These kits, with easy-to-follow instructions and materials that were directly related to the course material, were effective in demonstrating concepts learned in class. He has previously been awarded a curriculum development grant from the Dean of the College. These grants are awarded to faculty who are developing new courses or revising existing ones by inviting guest speakers, adding readings, or developing other initiatives that will bring global health content to the subject matter of the course. 
At Brown's 2022 Summer Research Symposium, presented by the Office of the Dean of the College, thirty of the 198 projects were from undergraduate researchers from the School of Engineering, or were conducted under the guidance of engineering faculty members.