Engineering real-world impact robots 
With a dual appointment in engineering and computer science, Associate Professor Nora Ayanian looks at solutions for end-to-end multi-robot coordination – that is, making a team of robots work without roboticists on hand to monitor their progress.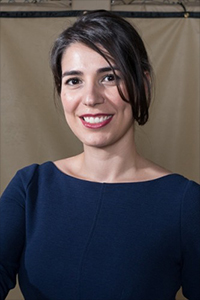 Ayanian's Twitter handle, @NoraRobots, is the first indication on what drives the newest STEM professor on College Hill. Her research focuses on creating solutions that allow non-experts to use teams of robots safely and effectively. To do so, she develops algorithms that coordinate robot collaboration on complex tasks that use only high-level specifications, such as using multitouch inputs to control a team of unmanned aerial vehicles (UAV). Ayanian's approach to multi-robot systems diversifies robot decision making and physical capabilities to build more resilient teams that can be successful even in unforeseen circumstances. 
"It's deceptively difficult to get robots to work together," she said in a TEDx talk from 2017, "but we have big dreams."
More recently, she explained "Because it is so hard for them to work together, we want to leverage diversity. It's hard for humans to work together, right? I mean obviously humans and robots are two very different things, but when you get a bunch of people together, you have all these diverse perspectives that help you solve complex problems. With robots, there is the complication that when they are working together, you have to tell them exactly what to do in every situation. So when you have multiple robots running around you may not envision every situation that they're going to encounter, so that makes it challenging. But I think that introducing a little bit of diversity into your robots, not just physical differences, but differences in the way that they act and make decisions, will make them more robust. That's really important, and is the vision of my work."
This overarching vision has been the same for her almost decade-long academic career, and although robot hardware has advanced significantly in that time, solving the way they complete complex tasks as a group has taken slightly longer. Other roboticists might study schools of fish or flocks of birds in order to deconstruct behavior and apply these findings: Ayanian crowdsources human behaviors. She is studying small-group human interaction, in hopes of applying these findings to artificial intelligence and machine learning, helping robots adjust to circumstances, work collaboratively, and accomplish tasks autonomously. 
Ayanian's current projects include detecting and fighting wildfires with UAVs, mapping unknown and unstructured environments (such as the Martian surface) with teams of robots, and planning for warehouse robots. Her solutions are broadly applicable across all aspects of multi-robot systems and mobile sensor networks, including manufacturing, home automation, entertainment, environmental monitoring, and precision agriculture.
Her interest in control theory and efficient systems stems from an undergraduate introduction at Drexel. "I really liked control theory, and being able to determine how systems act — being the person that actually dictates how they act – that led me into robotics. I did some undergraduate work researching control theory and one of my faculty advisors encouraged me in that direction.
"My undergrad was in mechanical engineering. When I first started, I wanted to graduate and work as a defense contractor," she said. "I tried working at a really small company, I tried working as a government contractor, and I worked at MIT's Lincoln Lab. I tried the gamut before deciding maybe I should stay in academia. It certainly wasn't that I wanted to be a roboticist from day one. I didn't even know that was a job. But it just kind of happened." 
After earning her undergraduate degree at Drexel (the third child of chemist parents to obtain the same engineering degree from Drexel), Ayanian earned her doctorate in Mechanical Engineering and Applied Mechanics from the University of Pennsylvania in 2011. She spent two years in a postdoc appointment at MIT, before beginning at the University of Southern California in 2013. 
While at USC, she used an online multi-player game she developed with funding from a National Science Foundation CAREER award in 2016 to study how people in groups behave when completing group tasks with limited communication, sensing and motion capabilities. In essence, she put humans in the same situation as robots to record how humans coordinate under these conditions: How leaders emerge from the group, how they signal (communicate) with each other, and how it is decided if and when the task is completed. For that project, she was named one of the MIT Technology Review's Innovators Under 35 (TR35) for 2016.
Here, Ayanian's office is in Brown's CIT building, and her laboratory is on the third floor of the Engineering Research Center. "I think the fluids group in engineering is a great fit for me: We do some aerial robotics and that involves fluids, and (Professor) Kenny Breuer and I are collaborating already," she said.
"Part of the reason I moved here is really that it gives me opportunities to collaborate with people outside of my comfort zone and beyond what I've already done. It seems at Brown there are almost no boundaries and people are just really excited to collaborate on interesting things. With a 50/50 appointment (computer science and engineering), I'll get the best of both worlds," she said. 
"I was ready to try different things, and expand," Ayanian said of her move to Providence after eight years at the University of Southern California. "I'm very grateful for the support that I got at USC, and for my collaborators. We did a lot of amazing work together, and I'll still collaborate with them. But I feel like there are different people at Brown that I'll get to work with on different things — things that I've been thinking about and been interested in for quite some time. 
"Another reason is I'm really excited to work with the undergrads here. I've heard amazing things about them and I'm excited to see what they can do." 
Ayanian will lead a graduate level class in the fall of 2022 and in spring 2023 will offer an undergraduate robotics course that will be cross listed between engineering and computer science. Her lab should be outfitted by October, so she is hopeful that both graduate and undergraduate students in her courses will make use of it. "My lab generally has a lot of opportunities for research, both at the undergrad and grad level. We have more than 60 robots, and we use many of them at once!" she said.