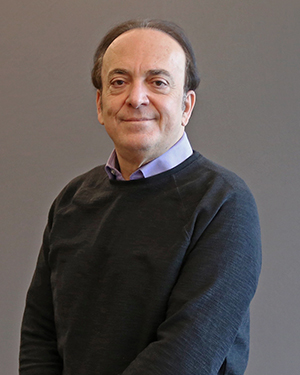 George Karniadakis, Charles Pitts Robinson and John Palmer Barstow Professor of Applied Mathematics and Engineering at Brown University, has been selected by the Department of Defense as one of nine distinguished faculty scientists and engineers for the 2022 Class of Vannevar Bush Faculty Fellows (VBFF). 
"The Vannevar Bush Faculty Fellowship is the Department's most prestigious research grant award," said Dr. Jean-Luc Cambier, the VBFF Program Director. "It is oriented towards bold and ambitious 'blue sky' research that will lead to extraordinary outcomes that may revolutionize entire disciplines, create entirely new fields, or disrupt accepted theories and perspectives."
The 2022 Class will join approximately 50 current Fellows who conduct basic research in areas of importance to the DoD, including materials science, cognitive neuroscience, quantum information sciences, and applied mathematics. In addition to their research projects, Fellows can also engage directly with the DoD enterprise to collaborate with DoD laboratories and share insights with DoD leadership and the broader national security community.

The Vannevar Bush Faculty Fellowship is sponsored by the Basic Research Office within the Office of the Under Secretary of Defense for Research and Engineering. The grants are managed by the Office of Naval Research. For the FY 2022 competition, more than 300 white papers were received. Each Fellow will receive up to $3 million over the five-year fellowship term to pursue cutting-edge fundamental research projects. Karniadakis will be investigating "The Next Generation of Operator Regression Networks: Theory, Algorithms, Applications." The proposed work is related to physics-informed machine intelligence and the so-called third generation of Artificial Intelligence.

This highly competitive Fellowship is named in honor of Dr. Vannevar Bush, who directed the Office of Scientific Research and Development after World War II. In line with Dr. Bush's vision, the Fellowship aims to advance transformative, university-based fundamental research.

Karniadakis received his master's and Ph.D. degrees from the Massachusetts Institute of Technology in 1984 and 1987, respectively. He was elected to the National Academy of Engineering (NAE) in 2022, and is a Fellow of the Society for Industrial and Applied Mathematics (SIAM), Fellow of the American Physical Society (APS), Fellow of the American Society of Mechanical Engineers (ASME) and Associate Fellow of the American Institute of Aeronautics and Astronautics (AIAA). He has been a recipient of the SIAM/ACM Prize in Computational Science and Engineering (2021), the SIAM Ralph Kleinman award (2015), Computational Fluid Dynamics award (2007) and the J. Tinsley Oden Medal (2013) by the U.S. Association in Computational Mechanics. His h-index, a quantifier of an individual's scientific research output, is 122, while his research has been cited over 68,000 times.