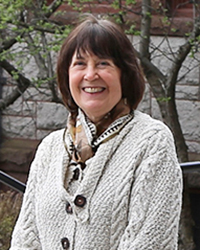 Brown Engineering's Linda Abriola has been awarded one of five global scientific awards focusing on cutting-edge innovation in water research, given by the Prince Sultan Bin Abdulaziz International Prize for Water (PSIPW). Every two years, PSIPW offers prizes, covering the entire water research landscape, and gives recognition to scientists, researchers and inventors around the world for pioneering work that addresses the problem of water scarcity in creative and effective ways. Abriola was awarded the groundwater prize.
The monetary award of the prize is accompanied by a gold medal and trophy, engraved in both English and Arabic with the name of the Prize and the winner. Abriola was lauded for her work in pioneering research on toxic Dense Non-Aqueous Phase Liquids (DNAPLs) in groundwater, ranging from the simulation of their fate to effective methods for cleaning contaminated sites. 
"I am deeply honored to be receiving this recognition for my work and to be joining such a distinguished group of past medalists," said Abriola. 
Leading international academics and scientists with a diversity of backgrounds - including materials science, chemistry, engineering, and environmental science, as well as hydrology - were named for a wide variety of relevant, groundbreaking solutions that promise to help provide needed drinking water to the world's people. The Prince Sultan Bin Abdulaziz International Prize for Water is judged by leading scientists from around the world. There are four specialized prizes dedicated to surface water, groundwater, alternative water resources, and water management and protection. There is also a creativity prize that is dedicated to awarding work carried out by multidisciplinary research teams.
Now in its tenth year, the winners were formally disclosed on June 6 under the Space and Water Agenda of the 65th Session of the United Nations Committee on the Peaceful Uses of Outer Space (UN COPUOS). The award will be presented at the United Nations Headquarters in New York City in September.
Abriola joined Brown in January 2021 as the Joan Wernig and E. Paul Sorensen Professor of Engineering. She is a member of both the National Academy of Engineering, and the American Academy of Arts and Sciences, and a Fellow of the American Geophysical Union. She came to Brown from Tufts University, where she served as the inaugural Dean of the School of Engineering for 12 years (2003-2015), and later as university professor and Director of the Tufts Institute of the Environment.