In telling the story of Brown's newest fluid mechanics faculty member, you must start with his beginning. Growing up on the west side of Chicago, he called "La Villita" home. In the 1960s and 70s this formerly Slavic community became, and still is to this day, predominantly Mexican American. "In truth," said Mauro Rodriguez, "it really is strictly Mexican. There are 'we speak English' signs in front of the stores." The terracotta archway that welcomes visitors into the community bears the inscription "Bienvenidos to Little Village" — the first indication of the hybridized community that offshoots from the neighborhood's main drag.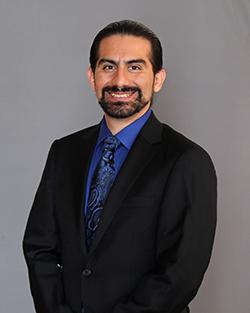 "There were many things to be proud of where I grew up, and there were many things to be not so proud of," he said. "My neighborhood had tremendous Mexican American pride. I went to a school that was two blocks from my house and everyone in the school was Mexican American. Except the teachers, which made for a very, very sharp contrast between them and us.
"The school provided only Spanish courses and classes up to the fourth grade, and then in fifth grade, everybody switched to English. There was only one transition point, and that was fifth grade. As a monolingual Spanish speaker, I did not learn English until I was ten."
Rodriguez describes the first floor of his elementary school as covered in graffiti, a symbolic badge of the surrounding gang environment and the ability to "be effective in what they called protecting the neighborhood. They were my neighbors, my people, and so there was this great struggle of mind, of being proud of who you were, but also seeing the corruption of souls of men and women in my community. You loved and hated yourself at the same time. That's how I felt growing up, and if anyone struggles to understand it, well, it took me a very long time to understand myself."
The eldest son in his family, it was important to his father that Rodriguez literally cross the tracks to attend John F. Kennedy High School for his secondary schooling years. "I learned, very quickly, how far back (academically) I had been left behind, how far everyone in my community was left behind," he said. "So I began to absorb all the knowledge I could in high school, but not because I had dreams of getting to college. I didn't have such dreams. I did it because I wanted to prove to myself that I could."
It was in Ms. Delaney's advanced placement calculus course during his senior year Rodriguez first realized others had been watching how hard he had been working. Delaney had invited a college recruiter from the University of Illinois Urbana-Champaign to visit her classroom, and the recruiter asked to take her first row of students downstairs to enjoy some of Chicago's famous Giordano's pizza while sharing information about the university. Delaney stopped the recruiter by saying "If you just take the first row, you're missing out on perhaps the most powerful individual I have in this classroom." Without attempting to hide his doubt, the recruiter relented to include the sole Hispanic male Delaney was pointing to, seated in the back left corner of the classroom. Rodriguez would listen politely to the recruiter, more interested in the free slice of pizza than the cornfields he envisioned Illini students peering around to even find the classrooms on campus. By this time, the man had scanned Rodriguez's transcripts and the abrupt change in his demeanor was not lost on the 18-year-old. Finally, pizza devoured, Rodriguez would utter a phrase he thought at the time was incredibly deep and profound, because he had spent a great deal of time reaching this conclusion: "I'm not going to college. We all have our place in this world. And college is not my place."
Were it not for the recruiter's relentless pursuit (and perhaps the most influential adult maneuver known — talking to Rodriguez's mother), the three college applications that were ultimately completed and accepted would not have happened. By the time the calendar turned its pages to August, Rodriguez had packed up his belongings and was surprised to see the Illinois flagship campus was not actually rows upon rows of corn, but an open space in which he could walk, or ride his bike, freely, without a sense of fear or anxiety.
Learning how to learn in this new-to-him environment would take a series of epiphanies on the part of Rodriguez, who searched for his identity among the Latino fraternities, the Office of Minority Student Affairs (OMSA), engineering sponsored overnight retreats to nearby Allerton Park, and, finally, the Society of Hispanic Professional Engineers (SHPE).
"I recall sitting in the auditorium for my first chemistry exam," he said. "I made it," he remembers thinking, "and a realization set in: I am alone. My family and community do not have such opportunities. But I did, and their hopes lie with me. I do not have the luxury of failure." But fail that exam he did. It was the community, continuous informal SHPE mentorship and OMSA tutoring that helped Rodriguez adapt and begin to thrive. By his senior year, he held multiple positions for Illinois' SHPE group, laying the groundwork for what would become one of his driving passions as an educator, academic leader and mentor. When he attended one of SHPE's national conferences, he heard one of the faculty speakers say, "the rate of underrepresented and Hispanic students is growing in universities. It is imperative, if you care about your people, if you care about your community, to do your best to become a graduate student … to get a Ph.D., and ultimately to become a professor."
"I remember listening to this and I felt like the stars had aligned because that's exactly what I felt," Rodriguez said. "I deeply care about my people, I deeply care about my community. There's so much pain and suffering I have seen and witnessed, that I will do anything I can to serve them in any way or form."
This realization of purpose was reaffirmed in his forthcoming search for graduate schools, after a conversation with his younger sister who encouraged him early and often to "go as far as you can possibly go." "What if I fail?," he asked. "Then it wasn't because you didn't try," she said.
"I reaffirmed to myself that I had an opportunity to take back a lot of the stereotypes and all these other things I thought were indoctrinated in me. I heard this phrase: 'Until the day that I die, I must do everything to make my body a bridge so that others can walk across it.' And I thought, that's it."
A master's in mechanical engineering from Stanford would be the beginning of his bridge, but without enough funding to continue on to his doctorate, Rodriguez found himself once again shopping for a new destination. Having impressed with his graduate work and made a name for himself among an influential circle of mechanical engineering faculty, Stanford adviser Eric Shaqfeh released Rodriguez to University of Michigan Associate Professor Eric Johnsen.
"I benefited greatly from the Michigan experience," he said. "I was involved in a variety of projects, one in particular was an Office of Naval Research collaboration, where the principal investigator was Christian Frank, at the time a professor at Brown. Brown's David Henann was a co-investigator along with Eric, my Ph.D. adviser. Also Zhen Xu of Michigan and Tim Colonius, who would become my postdoctoral research adviser at CalTech. Looking back now I see that a lot of threads combined even then.
"When I graduated from Illinois I remember looking at those three schools — Caltech, Michigan and Stanford, and thinking if I could go to all of them I would. And it turned out that I did, but it wasn't out of intention or design, it just worked out that way."
Rodriguez earned his Ph.D. from Michigan in 2018, and spent a pair of postdoc years at CalTech. As his second year came to an end, the COVID-19 pandemic strained both universities looking to add faculty, and potential new hires alike. But Rodriguez was nominated by Colonius to participate in a nationwide online seminar series for historically underrepresented postdocs and doctoral students to give a 20-minute talk in front of groups of collegial hiring committees to maximize incoming faculty opportunities. One part of this Future Leaders talk stipulated that each candidate had a host: Brown professor Roberto Zenit had attached his name to Rodriguez.