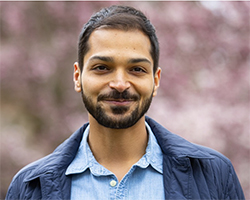 Brown biomedical engineering Ph.D. candidate Bardiya Akhbari has been named a recipient of the 2021 Graduate Student Contribution to Community Life Award. This award is given by the Division of Campus Life on behalf of the Corporation Committee on Campus Life and recognizes a select group of graduating doctoral and master's students who have significantly contributed to the sense of community at Brown.
Award winners demonstrate both a breadth of engagement and sufficient depth to have had a substantial impact. Through their participation in the life of their peers and the broader Brown community, they have enhanced campus life and the experience of others. Through their service, teaching, research, advising, mentoring, and/or interpersonal interactions, recipients demonstrate their deep commitment to bettering the lives of others and reflect the highest ideals of citizenship and a life of engaged scholarship and practice.
Born and raised in Tehran, Iran, Akhbari will receive his Ph.D. in biomedical engineering in May, where he will deliver the 2021 Commencement Ceremony Doctoral Address. Akhbari joined Prof. Trey Crisco's laboratory in September 2016 and started his research at the intersection of orthopedics, biomechanics, and medical imaging to design systems that can translate to clinical settings to reduce pain and improve wellness.
During his time at Brown, Akhbari was involved in several roles across the University. From 2019 to 2020, Akhbari was a graduate board member of the International Students' Advisory Board, meeting with the administration regularly to discuss the problems that international students face. During his tenure, the board found the biggest challenge facing international students is the lack of on-campus housing for international graduate students. The board also advocated for enhancing tax advising and filing support services, subsidizing Student and Exchange Visitor Information System/Student and Exchange Visitor Program (SEVIS/SEVP) and Optional Practical Training (OPT) application costs for international students, as well as establishing emergency funding for leaves, meal support, and other basic needs. 
Akhbari was also the co-founder and president of the Iranian Graduate Students Association (IGSA) for four years and the president of the Iranian Students Association (both graduate and undergraduate chapters) for two years. During his tenure, he and his team arranged more than ten community events and supported current and prospective Iranian students in various capacities (such as waiving admission fees for Iranian-born students in 2017 and extending the graduate school's application deadlines in 2019). Akhbari was also the representative of the Center for Biomedical Engineering at the Graduate Student Council (GSC) for two years and the faculty meeting observer for the BioMedical Engineering and Biotechnology (BMEB) graduate advisory board. As a representative for GSC, he communicated university-wide news and resources to the department and students, and as the faculty observer for BMEB, he was reporting the decisions made by faculty during the meetings to the department to improve the center's transparency. Akhbari plans to continue in the field of biomechanics research, and he is seeking out a postdoctoral appointment.
Other recipients of the 2021 Graduate Student Contribution to Community Life Awards include Sociology's Amy Chin, Health Services, Policy and Practice's Shekinah Fashaw-Walters, and English's Christopher Lee.