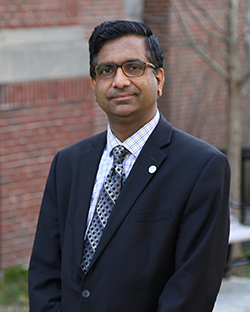 Anubhav Tripathi, professor of engineering, professor of molecular pharmacology, physiology and biotechnology, and director of biomedical engineering, has been recognized as having used the University's Diversity and Inclusion Action Plan (DIAP) as a vehicle to actively create positive change within the university community with a 2021 DIAP Community Award.
The Office of Institutional Equity and Diversity, with generous support from the Office of the President, instituted the DIAP Community Awards in 2018. Each recipient receives a monetary award. The selection committee selected eight winners who clearly used the DIAP process to make Brown an innovative and academically rigorous institution that prioritizes diversity and inclusion. Tripathi shared the faculty award with Assistant Professor of Orthopaedics, Assistant Professor of Molecular Pharmacology, Physiology and Biotechnology Dioscaris Garcia.
For the last several years, Professor Tripathi has led the School of Engineering's concerted efforts for diversifying its faculty. He has served as Chair of the School's Target of Opportunity (TOO) Committee and, earlier, as Chair of various key faculty recruiting committees. 
"The School of Engineering's efforts at diversification have had a real impact, and Professor Tripathi has been a leader in all of the School's successful faculty recruitments that have helped to diversify the faculty over the last eight years," said Larry Larson, Sorensen Family Dean of Engineering. "Anubhav's creativity, energy and deep, deep commitment have absolutely transformed the School of Engineering." 
Another nomination in support of Professor Tripathi noted, "Anubhav has devoted countless time and energy to expanding diversity and inclusion within the School of Engineering and beyond.  These efforts are made out of his true belief in this cause. We have all benefited from his passion."
At Brown, Tripathi's research group develops new pathogen diagnostic platforms by integrating biological and engineering principles. His group designs, creates and builds microfluidic devices to investigate clinical applications involving diagnosis of cancer and infectious diseases as well as protein structure, and basic questions regarding biological molecules. He holds many patents, has over 100 peer-reviewed publications, and has delivered more than 50 invited talks. He is a Fellow of the American Institute of Medical and Biological Engineering. 
Other 2021 DIAP Community Award recipients were: Undergraduate - Jasmine Gibson '21 (public health); Graduate - Kathryn Thompson, MHA (Health Services, Policy and Practice) and Haylee Makana Kushi (American Studies); Staff - Kia McNeil (head coach, women's soccer); Academic Department - The Sheridan Center and Computer Science.