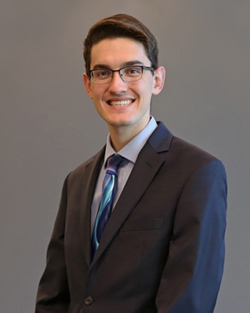 Christopher Louzon, a chemical engineering Ph.D. student at Brown, was awarded the Department of Defense Science, Mathematics, and Research for Transformation (SMART) Scholarship. This award provides students with full tuition for up to five years, summer internships, a stipend and full-time employment with the Department of Defense after graduation. 
This unique opportunity offers students hands-on experience at one of over 200 of the nation's most innovative laboratories across the Army, Navy, Air Force and larger Department of Defense. During summer internships, SMART Scholars work directly with an experienced mentor, gaining valuable technical skills. After graduation, Louzon will work in the U.S. Army Research Laboratory in Aberdeen Proving Grounds, Md.
"I'm honored to be awarded this prestigious scholarship," Louzon said. "The SMART Scholarship will enable me to collaborate with DoD researchers as I complete my Ph.D. work, creating new possibilities for the future of my project and its legacy in the ceramics industry."
Louzon, originally from Marriottsville, Md., is researching environmental barrier coatings in jet engines as part of the Advanced Ceramics and Nanomaterials Laboratory with the Padture Group at Brown. Louzon's previous research experience encompasses a diverse range of fields and technologies, including organic coatings, surgical sealants, and biopharmaceutical manufacturing regulation. Louzon graduated from the University of Maryland with a B.S. in chemical engineering. As an undergraduate, he performed research projects at Naval Air Systems Command (NAVAIR) and the U.S. Food and Drug Administration. This spring, Louzon will serve as a judge for the Massachusetts Middle School Science & Engineering Fair.
The Department of Defense is the largest employer of scientists and engineers in the nation with nearly 300,000 STEM professionals. For over a decade, SMART has trained a highly skilled STEM workforce that competes with the evolving trends of industry to support the next generation of science and technology for our nation. The SMART Scholarship-for-Service Program is a combined educational and workforce development opportunity for bachelor's, master's, and Ph.D. students to gain technical skills in critical STEM fields and support the national security mission of the Department of Defense.