The Brooke Owens Fellowship — a nationally-acclaimed nonprofit organization recognizing exceptional undergraduate women and other gender minorities with space and aviation internships, senior mentorship, and a lifelong professional network — announced its newest class of Brooke Owens Fellows, which included Brown University electrical engineering concentrator Lauren Adachi '22.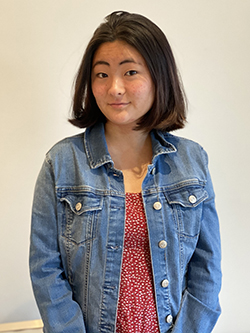 Adachi was one of 44 fellows selected through a competitive application process involving written and creative submissions, interviews with the Fellowship's volunteer-based leadership team and its close network, and interviews with the host companies. Adachi will be working at Sierra Nevada Corporation in Colorado as a Systems Engineering Intern for the Dream Chaser team. Brown geochemistry concentrator Annabelle Gao '23, was also selected to work at the Smithsonian National Air and Space Museum in Washington, D.C.
This year marks the fifth class of "Brookie" Fellows that were chosen from the Fellowship's most competitive application year. More than 800 promising and talented students applied from Ivy League universities, major research universities, historically black colleges and universities, liberal arts colleges, community colleges, and major international universities. The selected fellows have demonstrated their desire to pursue a career in aerospace, a record of leadership, a commitment to their communities, and their inexhaustible creativity.
Adachi is the technical lead and avionics hardware subgroup leader of Brown Space Engineering  She was a teaching assistant in last spring's Electronic Circuits and Signals class, and was a member of Professor Anubhav Tripathi's Biomedical Engineering Group. She also serves as a hardware team member of Pufferfish Ventilation (Pez Globo), representing both Professors Dan Harris and Jacob Rosenstein's labs. Pez Globo is an inter-university partnership between Stanford University, Brown University and the University of Utah with industrial partners across the globe. It began last March as a group of scientists, engineers and clinicians who are dedicated to fighting the COVID-19 health crisis by creating an open-source, full-featured ICU ventilator designed with rapid manufacturability in mind.
The Brooke Owens Fellows will be matched to an executive-level mentor committed to helping the Fellows launch their careers. This summer, the Fellows will start their internships and come together virtually for the annual Brooke Owens Summit. The Fellowship commits to providing these experiences even if the COVID-19 pandemic continues through this summer. This class of fellows will also become part of the network of more than 150 Brookie alumnae spanning all aspects of space and aviation including engineering, scientific research, policy, journalism, and entrepreneurship.
The Brooke Owens Fellowship was founded in 2016 to honor the memory of beloved industry pioneer and accomplished pilot D. Brooke Owens, who passed away in June 2016 at the age of 35, after a hard-fought battle with cancer. The program was co-founded by Lori Garver, the former Deputy Administrator of NASA and now CEO of Earthrise Alliance; Cassie Lee, Advanced Programs Lead for Weather and Remote Sensing at Lockheed Martin Space; and William Pomerantz, the Vice President for Special Projects at Virgin Orbit. The Brooke Owens Fellowship celebrates its five-year mission and legacy of disrupting the historical gender imbalance in the aerospace industry by continuing its mission to provide opportunities and access to talented young professionals from historically-underrepresented groups.