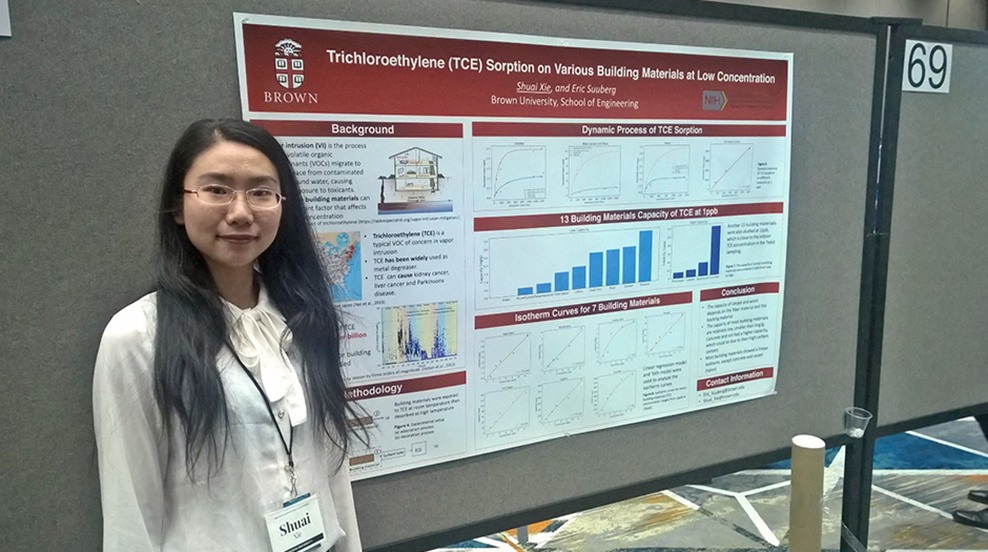 Brown School of Engineering Ph.D. student Shuai Xie Sc.M. '17 took top honors for her research poster at the 2019 National Institute of Environmental Health Science's (NIEHS) Superfund Annual meeting, hosted by the University of Washington in Seattle.
Her poster, "A Study of Trichloroethylene (TCE) Sorption on Various Building Materials" won the environmental sciences and engineering category.
She is advised by Professor Eric Suuberg.
Xie's work showed that indoor building materials can be a sink and/or source for many volatile organic compounds (VOCs), which can affect human health. However, the sorption capacities of building materials are not generally known when the concentrations of VOCs are extremely low such as in vapor intrusion scenarios. Adsorption-related indoor contamination sources need to be distinguished from vapor intrusion sources during the evaluation of the risks of vapor intrusion. In this research, the interactions between trichloroethylene (TCE), a typical VOC of concern in vapor intrusion, with more than ten building materials were studied. The equilibrium isotherms and dynamic adsorption processes were studied using various experimental methods. Some building materials, such as concrete, showed a relatively high capacity for TCE sorption, and this may potentially affect indoor air sampling strategies.
The posters were evaluated based on the following review material: Written presentation of the poster (abstract), oral presentation of the poster in language, relevance and knowledge, and the poster's appearance. Xie also took first place in the poster competition at the Association for Environmental Health and Sciences Foundation (AEHS) 35th Annual International Conference four weeks ago.