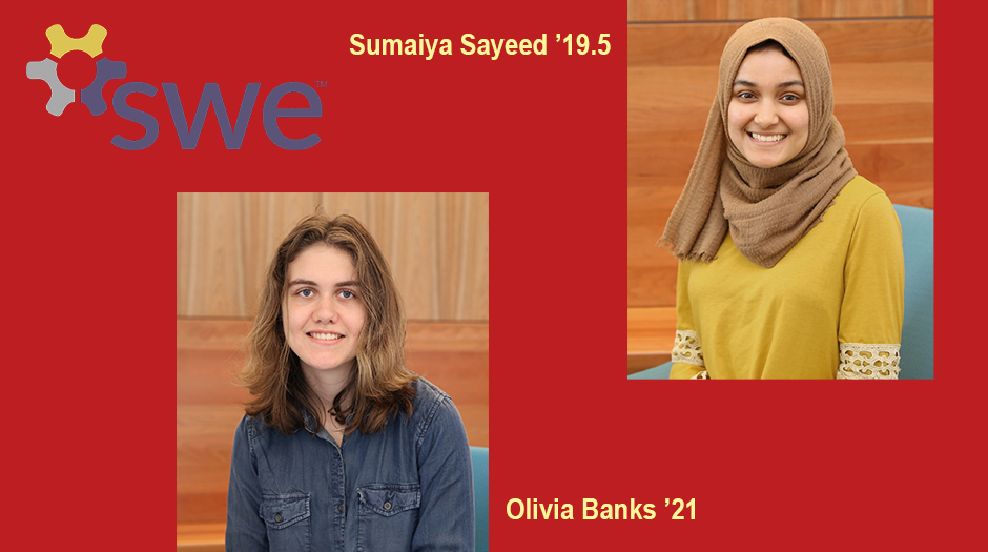 Brown School of Engineering's Olivia Banks '21 (computer engineering) and Sumaiya Sayeed '19.5 (biomedical engineering) were each named recipients of a scholarship from the Society for Women Engineers for the 2019-2020 academic year. In all, SWE awarded nearly 260 scholarships, totaling more than $810,000 to undergraduate and graduate student engineers.
Banks was awarded one of 19 Chevron/SWE scholarships. She is studying abroad at Oxford University this year. She worked in the Harris fluid mechanics lab as a freshman, and was involved in making a 3D printed droplet generator that will be used in future fluid mechanics experiments. She is a former Teaching Assistant for the Introduction to Honors Engineering course. Banks is a two-year participant in Hack@Brown, and won the Microsoft Azure Champ Challenge at Harvard's hackathon last year. She has been involved in Brown's Space Engineering club, grappling and mixed martial arts club and the novel writing club, and also serves on the executive board of the parkour club on campus.
Sayeed is an undergraduate researcher in the Shukla Lab at Brown, and was one of five winners of the Meredith Thoms Memorial Scholarship. She has developed an interest in medical devices, including the inaugural Rothberg Catalyzer team for wireless brain implants. She was recently awarded the grand prize at Brown's Hack Health competition for an agitation symptom management assistive device. Sayeed has led professional development groups on campus such as the Biomedical Engineering Society and SWE, and has been a Teaching Assistant and tutor in chemistry and engineering courses, including Electricity and Magnetism, Biomechanics, and Biomaterials. She is also a member of Tau Beta Pi, the engineering honor society.