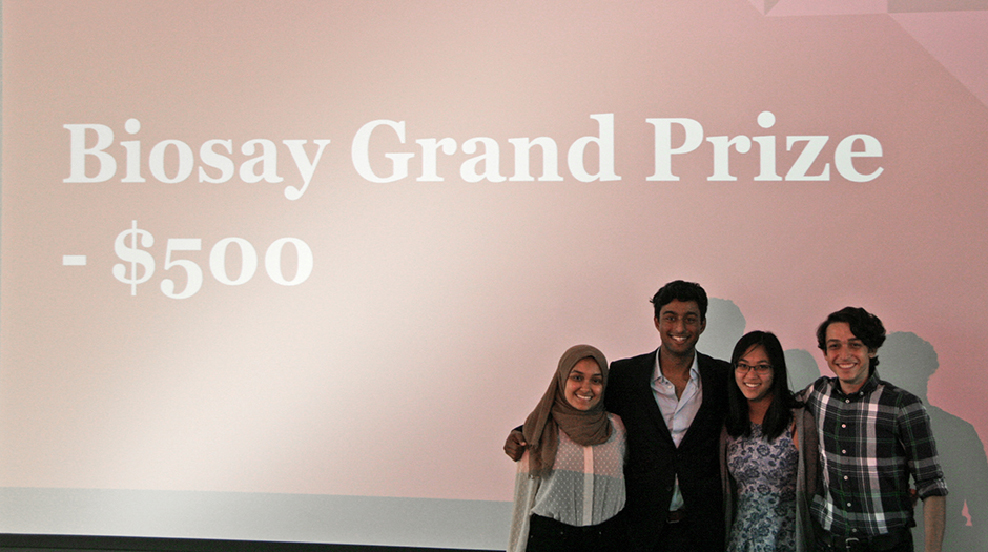 Top honors and a $500 grand prize awarded
Brown University's fourth annual Hack Health took place on campus last weekend, and a pair of Brown Engineering biomedical students were part of the team that took home the $500 grand prize and top honors. Sumaiya Sayeed '19.5 (biomedical engineering), Shailen Sampath '20 (biomedical engineering), Kaitlyn Lew '20 (biology and contemplative studies) and Bashar Zaidat '21 (computational neuroscience) created Vibe, a blanket-like covering for hospital use that would help relieve symptoms of agitation.
Vibe is an assistive device that can be integrated onto existing hospital beds and chairs to relieve the symptoms of delirium and dementia-related agitation. By providing heat, auditory stimuli, and tactile sensations, Vibe aims to create rhythmic, sensory input for patients who undergo neurodegenerative disorder in intensive care units, or used in homes for the elderly.
It is a problem that many clinicians have reported on: Seeing patients become aggressive or confused and having to use sedatives or physical restraints is difficult for all parties involved. The group's aim to meet this need was to create an assistive device that would relieve symptoms.
"We are currently outlining plans to continue to develop the project and build a prototype. As this is a pressing clinical matter, we aim to partner with clinicians," said Sayeed. The event was sponsored by Biosay, an app that lets people see how their surroundings impact their health in real time, no wearable required.
More than 80 students participated, forming 13 teams to tackle different healthcare issues. This year's theme focused on challenges in the field of mental health. After the teams worked through the weekend to refine their solutions, spending hours brainstorming, collaborating and receiving feedback from mentors, they presented their work to a panel of judges that awarded the grand prize as well as $100 prizes each for best tech-based and coded solution, and honorable mention.
PerHuman proposed an Alexa program that helps families and peers provide better verbal feedback to those suffering from mental illness, and was awarded best tech-based and coded solution. The team was made up of Daniel Chan '21 (biochemistry), Michelle Zhu '21 (public health), Jenny He '21 (applied math and computer science), Sorvan Kumar '21 (applied math and economics) and May Gao '21 (public health).
GradConnect, which included engineers Ph.D. student Sabina Stefan (biomedical engineering), Ph.D. student Dmitrijs Celinskis (biomedical engineering), Joshua Daniel Sc.M '20 (biomedical engineering), and Ph.D. student Shuai Xie (chemical engineering), along with Yeelen Edwards Sc.M. '21 (behavior and social sciences) was awarded honorable mention for an app and website that would foster social connections to address depression among graduate students. The technology would assign one-on-one meetups for lunch and exercise partners randomly, based on user availability.
Part "hack" (meaning creation across cross-sector entities), part marathon, Hack Health is a new kind of hackathon that aims to create solutions to medical problems and barriers. The weekend was an opportunity to work with fellow designers, engineers, developers, physicians, artists, entrepreneurs, mentors, and others to help develop tools that could change the worlds of medicine and health.