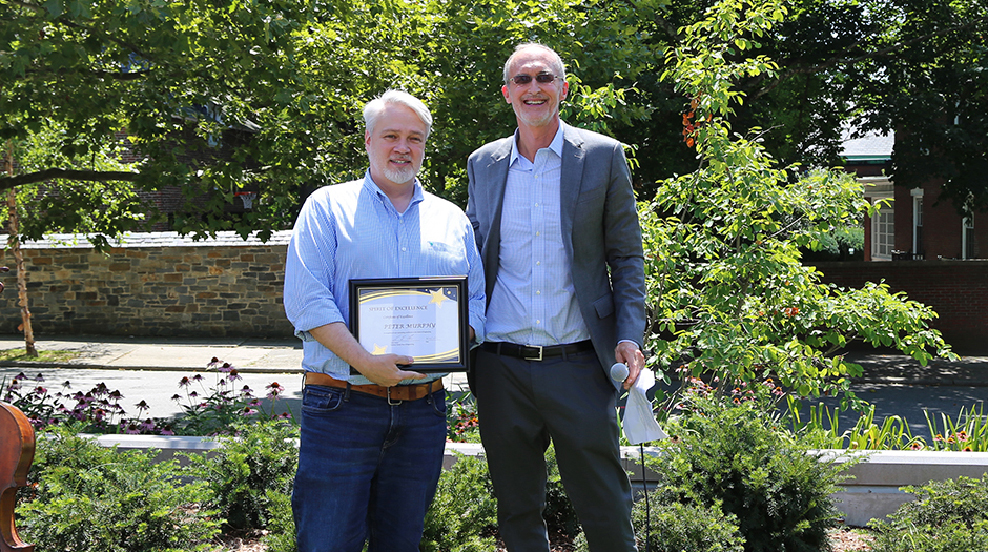 Peter Murphy was recently awarded Brown Engineering's Spirit of Excellence Award. Murphy, the Manager of Human Resources and Faculty Administration of the School of Engineering, was presented with the award by Dean Larry Larson at the school's annual summer cookout.
The Spirit of Excellence Award was created in 2015 to be given annually to an employee who brings new and innovative ways to doing their work, and embraces the vision of the School of Engineering through his or her accomplishments during the previous academic year.
This past year, Murphy collaborated with the Dean of the Faculty's office and Workday Operations on the School of Engineering's new independent structure and spearheaded the faculty administration transition to the School of Engineering. He also simplified and streamlined processes, set reasonable expectations, and created administrative efficiency and balance to support the Brown School of Engineering.
"Peter is a natural leader and has a sense of humor," said Dean Larry Larson. "He exemplifies leadership and commitment and is one of the most valuable assets we have in the School. He is thoughtful, and provides exceptional quality of service to everyone who contacts his office. Specifically, his knowledge about various kinds of appointments is exceptional."