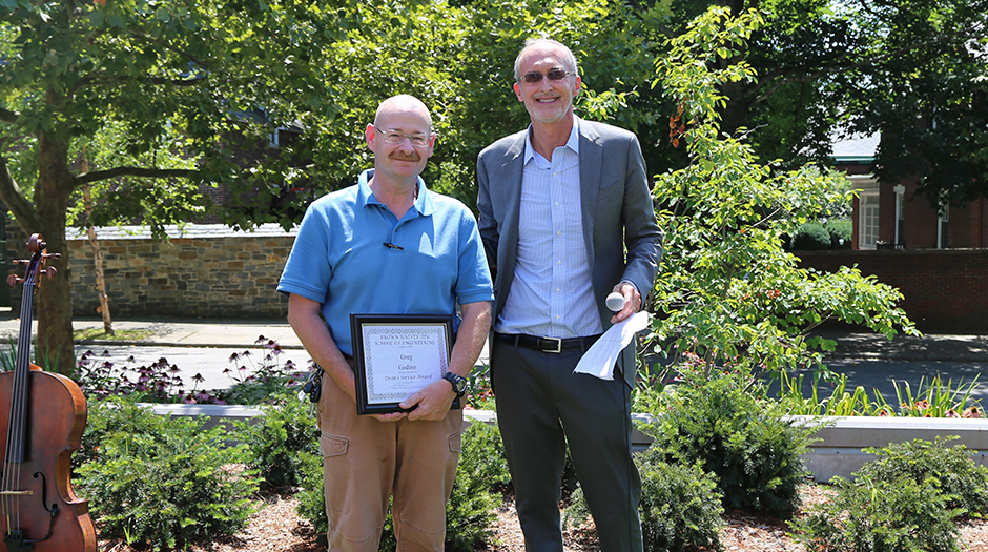 Greg Godino, IT Support Consultant in the Brown University School of Engineering Information Technology group, has received the seventh annual Dean's Service Award. The award, established during the 2012-13 academic year, was created to recognize a non-managing employee who has made a specific contribution or provided outstanding service in the School of Engineering.
The award is an opportunity to recognize the performance of an individual who has been a positive instrument of change; made significant contributions; and who has provided outstanding service to both internal and external constituents.
Since his addition to the IT team, Godino has made himself indispensable as the lead for IT support of high-profile events. He has accomplished this by combining his high standard of service with a hard earned, in-depth knowledge of the many different audio visual systems in engineering. In addition to his regular work, Godino regularly volunteers for assignments, be it staying late to render assistance with an evening class or coming in early to meet with someone having an issue.
"Greg demonstrates time and time again that when there is any IT desktop or AV crisis, or unexpected issue in Engineering, he consistently goes above and beyond his duties, with expediency and diligence. He deeply embodies outstanding service and caring about the success of every staff, faculty and student here," said Larry Larson, Sorensen Family Dean of the School of Engineering.