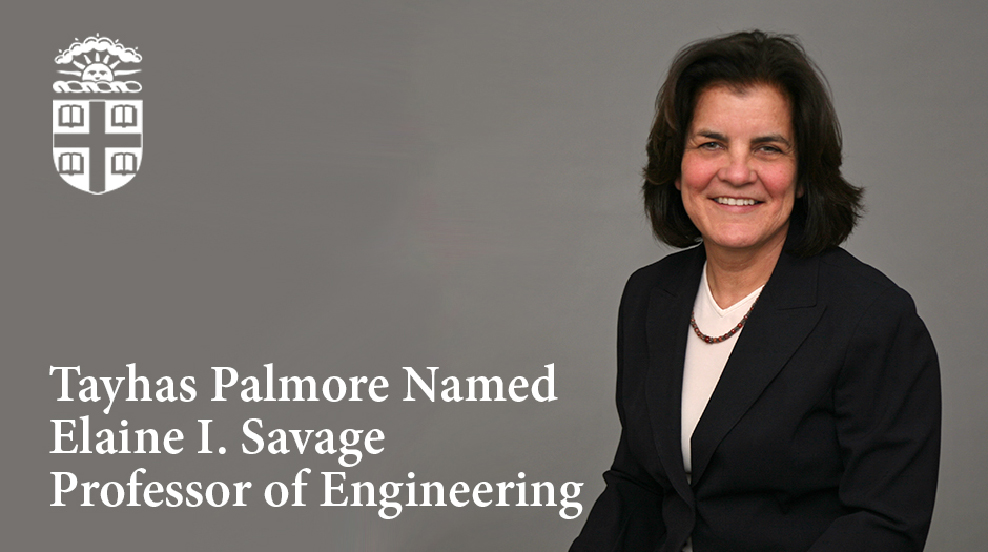 Tayhas Palmore has been named the Elaine I. Savage Professor of Engineering. Palmore is the inaugural holder of the endowed chair that was made possible with the generous support of multiple donors and is named in honor of Elaine Savage Sc.M. '74 Ph.D. '76, who is the first woman to earn a Ph.D. in engineering from Brown.

"This is a wonderful opportunity to recognize the accomplishments and lasting contributions that both Tayhas and Elaine have made to Brown Engineering," said Larry Larson, Sorensen Family Dean of Engineering.

Palmore is an electrochemist/materials engineer specializing in materials for energy conversion and storage. She received her Ph.D. in chemistry from MIT and was an NSF postdoctoral fellow at Harvard University. She joined the Brown faculty in 2000, and co-founded the graduate program in biomedical engineering in 2002.

"I am honored to be the inaugural holder of this chair," said Palmore. "Elaine Savage is a trailblazer for women engineers at Brown, and I am thrilled to be in this chair that recognizes and honors her."

Palmore's teaching experience includes courses on biomaterials, engineering thermodynamics, materials science, analytical methods of materials characterization, and organic chemistry. Her research is focused on new materials and device designs as they relate to fuel cells, batteries, sensors, and the bio/material/electronic interface. She is widely published in journals such as Advanced Materials, Chemistry of Materials, Biomaterials, Nature, and Science. She is a topic editor for the journal Crystal Growth and Design.