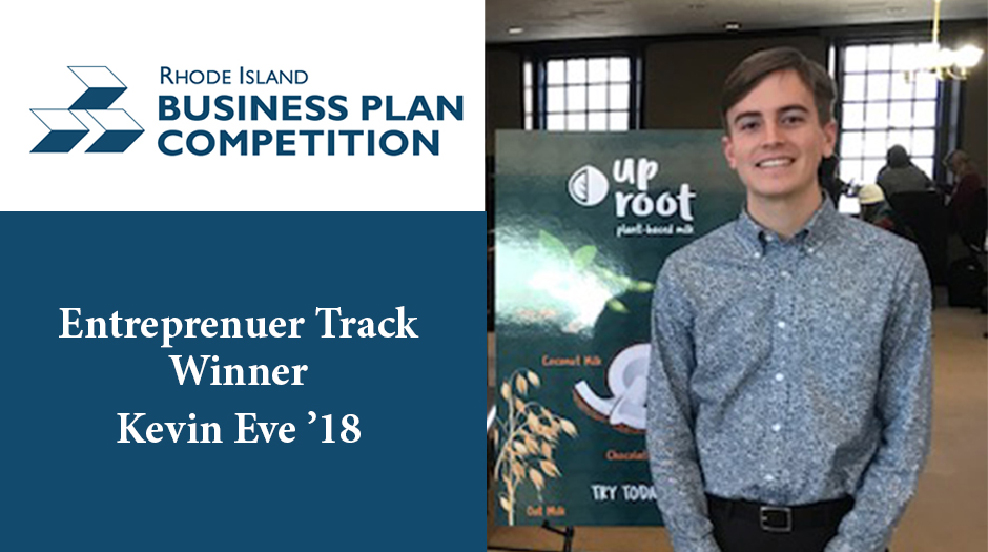 Kevin Eve's '18 Uproot Named Entrepreneur Track Overall Winner

A mechanical engineer who has developed a space-efficient dispenser of non-dairy milks for use in cafeterias and other commercial food service operations has been named the top winner in the 2019 Rhode Island Business Competition, which awarded prizes valued at $225,000 to six competitors. Kevin Eve '18 (A.B., engineering), of Providence, whose business, Uproot, was declared the top winner, took home $83,975 in winnings – $40,000 in cash and $43,975 in professional and consulting services as the Entrepreneur Track winner. Winners were announced at a public ceremony at the New England Medical Innovation Center (NEMIC) in Providence.
Eve and his co-founder, Philip Mathieu '17 (physics), will automatically be eligible to enter the $50,000 Cox Business Get Started Rhode Island pitch contest, to be held Oct. 2 in Providence, as semi-finalists. The duo were named 2019 Brown Venture Founders in March, an award that motivates recent Brown graduates and young alumni entrepreneurs to launch and grow their startups in Rhode Island.
Eve said Uproot, which serves four varieties of plant-based milk and creates 56% less packaging waste than milk served from cartons, offers more variety in less space than current competitors. The service is already selling to universities in Rhode Island and Massachusetts. Uproot currently produces its milks at Hope & Main, a shared-use commercial kitchen in Warren, R.I., and plans to team with a contract manufacturer in the region later this year to scale up production to support significant expansion efforts.
Winning the Student Track was H2Ok Innovations, led by David Lu, a Brown University undergraduate studying chemistry and computer science. H2OK Innovations, which uses artificial intelligence data analytics to map sources of contamination in underground drinking water pipes that are targeted for replacement, received $15,000 in cash plus $43,975 in professional and consulting services. A group of students enrolled in Brown's master's degree Program in Innovation Management and Entrepreneurship were among the finalists in the student track for their startup eBuoy. Each Student Track finalist received $5,000 in cash and services valued at $14,350. eBuoy is developing a product to detect harmful bacteria in freshwater/marine environments to ensure community safety. Team members include Kayla Colson, Isabella Lawandy, Aiden Kravitz '18 (chemical and biochemical engineering), Johnathan Lovett, and Jason Papalexopoulos '18 (economics).
Anthony Mangiarelli, Competition co-chair and partner with the KLR accounting firm in Providence, said, "We congratulate this year's winners and finalists, who are all developing promising businesses. We, along with the local organizations that will provide them with business and professional services, look forward to working with them."

More than 50 previous Rhode Island Business Competition participants are currently operating, having created more than 500 jobs, and buying services and supplies from Rhode Island companies. The competition, which has provided capital and services to very early stage businesses in Rhode Island for nearly two decades, was supported by 54 sponsors and partners this year.