Stimulating new solutions for deep brain treatment
With help from the Doris M. and Norman T. Halpin Senior Capstone Prize and fellow engineers, Thomas Skipper '19 investigates steerable guide tubes for deep brain stimulation treatment.
Early in the year-long course, clinicians and healthcare professionals addressed students in the ENGN 1930L Biomedical Engineering Design and Innovation class with a catalog of challenging design needs they have encountered, but that have not yet been addressed. Last September, when Associate Professor of Neurosurgery Wael Asaad, M.D., Ph.D. brought forth the idea of a steerable guide tube for deep brain stimulation, it immediately captured the interest of three students. Asaad had been hopeful that taking on a project of this magnitude would seem more viable than in years past now that the course would extend through two semesters for the first time.
"I hadn't done anything related to neuroscience in my time here," said Tom Skipper '19, who teamed up with fellow biomedical engineers Abigail Skerker '19 and Monita Minea '19 on the project. "But I knew I wanted my capstone to make a significant impact, and I thought bringing a feasible mechanical solution to this problem seemed appropriately difficult."
The team immediately immersed itself in learning the details of neurosurgery first hand from Dr. Asaad and other neurosurgeons. Deep brain stimulation (DBS), first utilized more than two decades ago, has become standard care in a certain population of patients with Parkinson's disease and essential tremors. Using MRI imaging and CT scans, along with software to map trajectories, doctors pinpoint the area of the brain to be targeted for electrical stimulation. Current surgical DBS strategies require creating multiple burr holes in either side of the skull, one for each electrode. Practitioners were asking for a device that is sufficiently both robust enough, and flexible enough, to guide electrodes through a single skull entry point to multiple sites while minimizing tissue damage. 
"For patients whose treatment options include this right now," Skipper explained, "neurosurgeons using DBS will choose one of two particular sites in the deep brain to stimulate. Then, they will insert a guide tube to deliver a stimulating electrode to the selected site, disrupting neural networks and relieving symptoms.
"However, they never choose two sites, because of the relative tissue damage that would occur by having two separate paths. Imagine if you could create a curved adaptable electrode to create a path through the brain and stimulate more than one site at the same time - the symptom relief would be appreciably better, quality of life would be better, and mass production of such a system would create a new, larger market."
I knew I wanted my capstone to make a significant impact, and I thought bringing a feasible mechanical solution to this problem seemed appropriately difficult.
The trio did extensive research in possible technologies, and by December had a novel concept ready to prototype. Their proposed solution applies technology developed for steerable needles that relies on curved, concentric tubes with balanced stiffness.  It includes a guide tube with a range of curvatures, extruding to cover multiple sites. 
This innovative and interdisciplinary capstone was rewarded with a Doris M. and Norman T. Halpin prize for Skipper, which includes research funding to help bring the prototype to fruition. The group plans to use the prize money to help with the heat treatment of the more expensive materials used in the prototype, and improve their current physiological models of the brain.  
Skipper, who began a two-year research associate position at the Broad Institute after graduation, has not ruled out medical or graduate school in the future. "I am really excited to be at the Broad, because it straddles industry and academia experiences – it has industry lab structure and funding, with the spirit of academia in its commitment to collaboration and open source science," he said.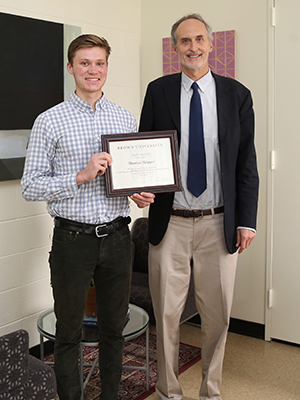 The broad-minded Skipper moved to Connecticut from Oxford, England at a young age. His research experiences at Brown included two years of work in Michelle Dawson's lab, creating benchtop 3D microenvironments for ovarian cancer research, which culminated in a senior honors thesis. His interest in cancer research had previously led him to Novartis for a summer internship, confirming his enthusiasm for molecular biological wet lab research. He also worked as an emergency medical technician for the town of Warren, R.I. while an undergraduate.
Skipper's balance between academics, research and clinical work has only strengthened his conviction that biomedical engineering was the right decision for him. "BME is quite a hodgepodge, ranging from microscale to macroscale, but I find lots enticing in terms of upper level research," he said.