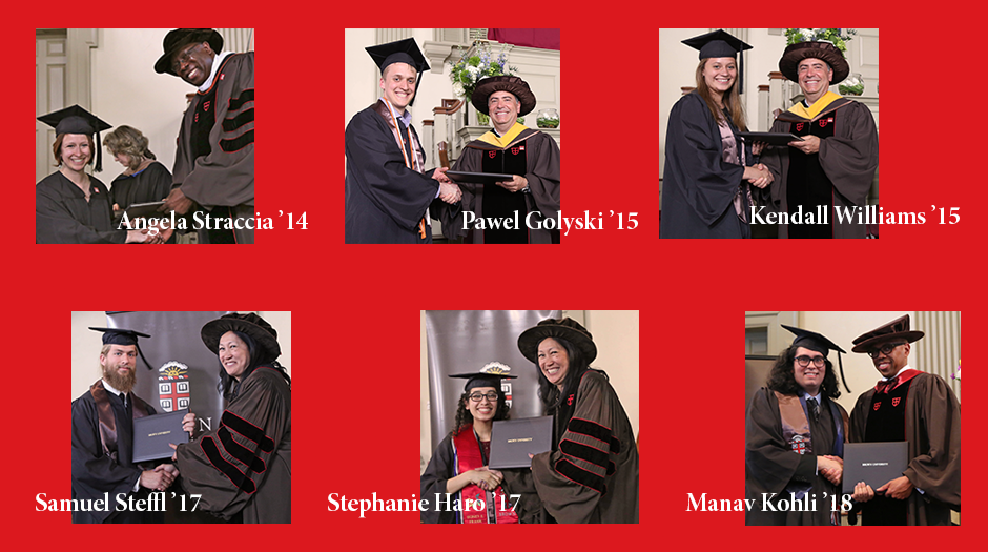 Golyski '15, Haro '17, Kohli '18, Steffl '17, Straccia '14, and Williams '15 Among Those Chosen
Brown School of Engineering recent graduates Pawel Robert Golyski '15 (biomedical engineering), Stephanie Haro '17 (biomedical engineering), Manav Pietro Kohli '18 (computer science), Samuel Steffl '17 (computer engineering), Angela Straccia '14 (mechanical engineering) and E. Kendall Williams '15 (biomedical engineering) have each won a three-year National Science Foundation (NSF) fellowship in the Graduate Research Fellowship Program. In all, 25 Brown graduate students and alumni in science, technology, engineering and mathematics fields were honored with tuition support and a stipend as promising young STEM leaders.
As the oldest graduate fellowship of its kind, the NSF GRFP helps ensure the vitality of the human resource base of science and engineering in the United States and reinforces its diversity. The program recognizes and supports outstanding graduate students in NSF-supported STEM disciplines who are pursuing research-based masters and doctoral degrees at accredited United States institutions. NSF Fellows are anticipated to become knowledge experts who can contribute significantly to research, teaching, and innovations in science and engineering. These individuals are crucial to maintaining and advancing the nation's technological infrastructure and national security as well as contributing to the economic well-being of society at large.
Golyski is currently a graduate student in BioEngineering at Georgia Tech working in the Physiology of Wearable Robotics Lab. His research is focused on understanding how the interaction between exoskeletons and user physiology influences locomotion. Before graduating with honors from Brown, Golyski was a member of Tau Beta Pi and was advised by Assistant Professor Susan D'Andrea. He was Brown Engineering's 2015 Outstanding Senior award winner in Biomedical Engineering.
Haro is a first-generation college student pursuing her Ph.D. at the Harvard Medical School's Speech and Hearing Bioscience and Technology program. She is part of the Bioengineering Systems and Technologies group at the MIT Lincoln Laboratory where she is uniquely situated to model hearing loss that impacts one's ability to understand speech in noise, develop auditory attention decoding for next-generation hearing aids, and contribute towards hearing protection device. While at Brown, Haro was part of Harvey Silverman's Laboratory for Engineering Man-Machine Systems (LEMS) group and James Simmons' Bat Neuroscience Lab.
At Columbia, Kohli works with the Wireless and Mobile Networking Laboratory (WiMNet), directed by Professor Gil Zussman, which focuses on research into wireless networking. He is currently working on novel methods of full-duplex wireless communication, including the development of hardware and control and signal processing algorithms. He will also be working on integrating and evaluating the hardware and algorithms in another WiMNet project, the COSMOS testbed, an NSF-funded wireless networking testbed being built in West Harlem. While earning his electrical engineering degree at Brown, he was advised by Professor Pedro Felzenszalb and Associate Professor Rashid Zia.
Steffl will join the ADEPT Lab at UC Berkeley this fall, where he will research new architectural abstractions and implementation methodologies to reduce the complexity, cost, and time-to-market for custom-silicon based computing systems. A former football player for the Bears, he was advised by Associate Professor Sherief Reda and named Brown Engineering's Outstanding Computer Engineering student in 2017.
Straccia has joined Alberto Aliseda's Multiphase and Cardiovascular Flow Lab at the University of Washington, where she is leveraging simulations of fluid dynamics to understand how blood flow in the body is altered by the presence of medical devices. She aims to understand the optimal way to implant a left ventricular assist device - a type of heart pump - in patients to reduce the likelihood of stroke. As a mechanical engineering student at Brown advised by Assistant Professor Shreyas Mandre, she was a co-president of Engineers Without Borders, a tutor with Brown Refugee Youth Tutoring and Enrichment, and a member of Tau Beta Pi society.
Williams is currently doing graduate work in the joint BME program at Georgia Tech and Emory in the lab of Dr. Wilbur Lam. The Lam Lab is focused on applying and developing micro/nanotechnologies to study, diagnose, and treat hematological disease. Before graduating Brown with honors, she was a member of the swim team and worked in the lab of Assistant Professor Ian Wong. She was actively involved with the Biomedical Engineering Society as an undergraduate.
The GRFP provides a yearly stipend, along with a $12,000 cost of education allowance for tuition and fees (paid to the institution), opportunities for international research and professional development, and offers the honoree the freedom to conduct their own research at any accredited U.S. institution of graduate education they choose.