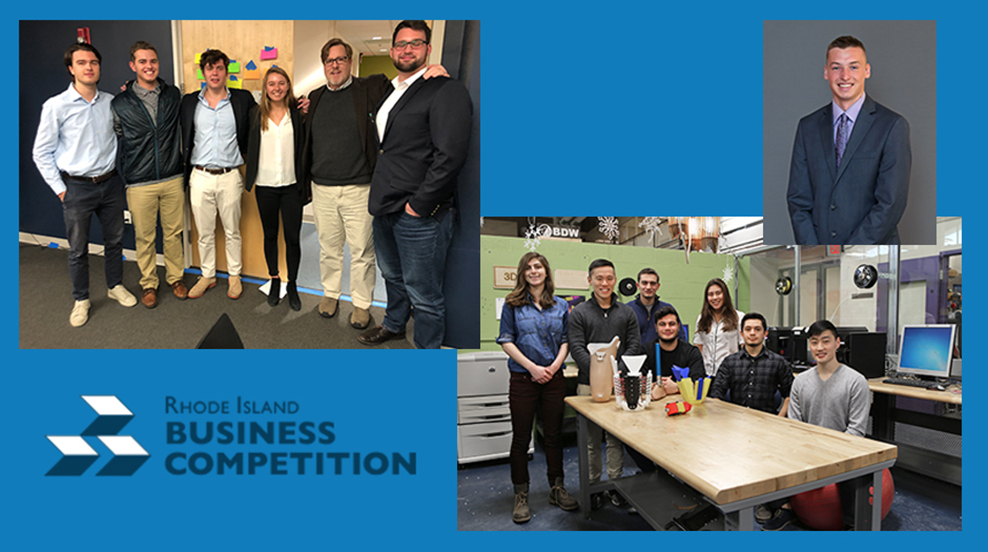 Brown University Business, Entrepreneurship and Organization concentrator Joey Asbel '19 pitched a plan to promote electric vehicle use with an on-call, mobile charging system, and won the recent 13th annual Elevator Pitch contest sponsored by the Rhode Island Business competition. Asbel's five-member Zap Technologies team, made up of Callie Smith '19, Willie Homza '19, Teo Norhagen '19 and Austin Vincent '19, is a BEO Entrepreneurship and Tech Management capstone team supported by the School of Engineering. Adjunct Lecturer Steve Petteruti advised on the project, and Alden Richards coached the Zap team. Asbel's winning pitch was awarded a $250 cash prize.
Biomedical Engineering graduate student Ashton Stoop took second place and a $200 cash prize for his 90-second elevator pitch on his business venture, Clutch Prosthetics, which aims to provide access to affordable knee joints for above knee amputees in the United States. The Clutch Knee is a low-cost mechanical knee joint which is able to mimic natural walking motion as well as high-end electromechanical knee joints, but at a fraction of the cost.
Koi Prosthetics took third place and was awarded one of three $100 cash prizes. Koi was founded by a group of Brown University students designing prosthetic devices for impoverished amputees in developing countries, and was led by Madison Frye's '21 pitch. Koi is addressing the long and expensive custom fitting process by creating an adjustable prosthetic socket alongside a low-cost prosthetic knee and adjustable pylon to increase accessibility. The venture enables rural amputees to obtain a quality, self-adjustable prosthetic to fit daily fluctuations of limb size, growth or muscle atrophy without repeatedly visiting a prosthetist. Current engineering Koi team members include Frye; Matt Lo '18, ScM '19; Luke Morales '18, ScM '19; Justin Lee '18, ScM '19; Matthew Borges '19; Alex Lo '18; Claire Sise '18; Eric DuBois '20; and Emily Esposito '20. Last summer, the team participated in Brown's Breakthrough Lab, an 8-week accelerator program sponsored by the Nelson Center for Entrepreneurship designed to support student entrepreneurs developing high-impact ventures.
Presenters had a minute and a half to address the problem to be solved, explain why the proposed solution is better than any other currently available solution, how the idea will make money, and why the presenter is qualified to make this solution. A panel of judges from the Rhode Island business community gave brief feedback on the clarity and persuasiveness of the presentation.
The elevator pitch competition is a prelude to the annual Rhode Island Business Plan Competition in May. Established in 2000, the Rhode Island Business Plan Competition has been recognized as one of the top 40 business plan competitions in the country. To date, it has awarded prizes valued at more than 2.6 million to developing companies across many industries. The competition will culminate on May 1, 2019 when cash and professional services expected to be valued at $200,000 will be awarded to winners and finalists.
Previous Brown winners of the elevator pitch competition include: Julie Sygiel '09 in 2008, Adam Leonard '10 in 2009, Theresa Raimondo '11 in 2010, Kipp Bradford '95 Sc.M. '96 in 2011, David Emanuel '13 in 2012, and David Katzevich '18 in 2017.