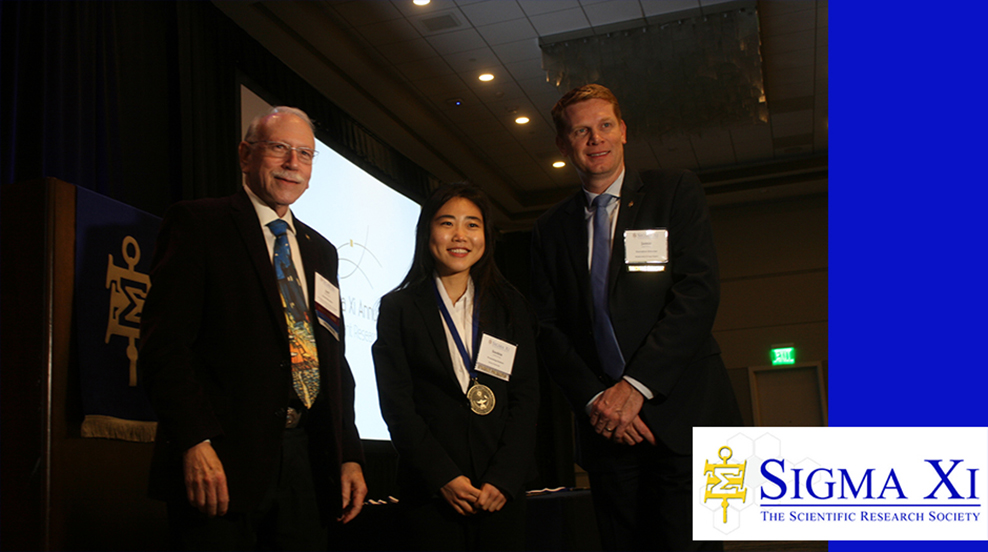 Biomedical engineering researcher Soobin Wang '19 won the Engineering student poster division at the 18th Annual Sigma Xi Student Conference this past weekend. Approximately 125 high school, undergraduates and graduate students competed in a research poster presentation competition at the conference, which was held in conjunction with the Sigma Xi Annual meeting.
Wang's research is supported by Assistant Professor Anita Shukla, and her poster was titled, "Assembly of Polyelectrolyte Multilayer Films for Controlled Delivery of a SHP2 Inhibitor."
"What I found most striking about the conference was the vast range not only of topics and fields, but also age groups participating that weekend," said Wang. "It helped me put my research into a broader context than I had previously, while also heightening my sense of ownership over my own niche of interests.
"After coming back, I felt especially grateful to be part of such a supportive lab (the Shukla Lab), full of incredibly knowledgeable mentors that have fostered my growth in so many different ways."
Sigma Xi members, who are elected to membership based on their research accomplishments, served as judges and evaluated the student presentations. Judges evaluated whether the student clearly stated a hypothesis and the significance of his or her research as well as goals and objectives. Students were also assessed on their use of the scientific method and ability to answer questions. Winners in each division received a medal, $150, one-year's subscription to American Scientist, and free inductions to Sigma Xi with their first year of membership dues waived. Undergraduate divisions included Agricultural, Soil and Natural Resources; Cell Biology and Biochemistry; Chemistry; Ecology and Evolutionary Biology; Engineering; Human Behavioral and Social Sciences; Math and Computer Science; Microbiology and Molecular Biology; Physics and Astronomy; and Physiology and Immunology.
The conference took place in Burlingame, Calif. on October 26 and 27.