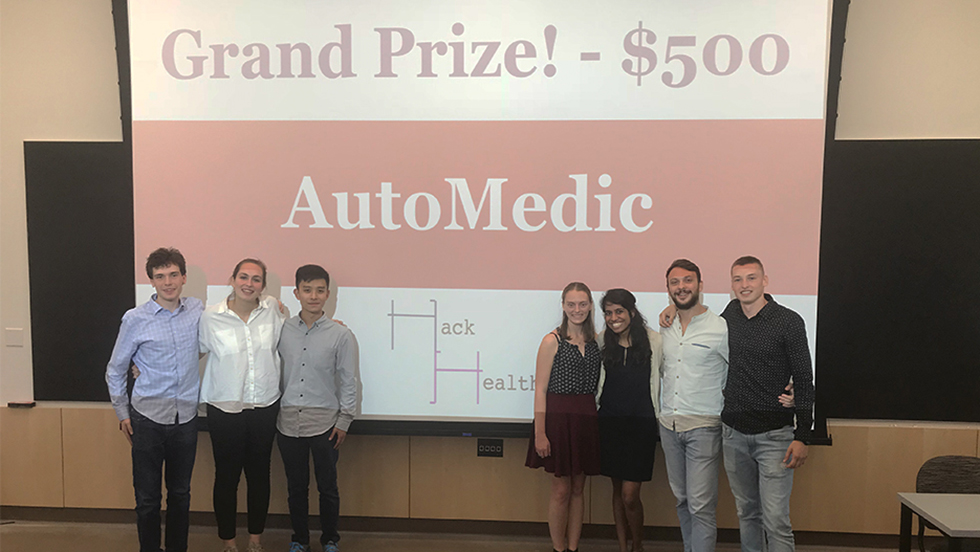 Brown University's third annual Hack Health took place on campus last weekend, and a group of Brown Engineering biomedical students took home the $500 grand prize and top honors.
More than 75 students from New England area schools participated, forming 12 teams to tackle different healthcare issues. Many teams chose issues related to this year's theme of emergency care, including Ashton Stoop ScM '20, Colette Bare '19, Zachary Neronha '19, Berke Buyukkucak '18 ScM '19, Hannah Blakely '19 and Brian Vuong '19. The group's project, AutoMedic, is an automated system capable of dispensing drugs for medical use in correct dosages. This would cut down on drug waste, improve safety and prevent theft of controlled substances.
The device is meant to be an add-on feature for the locked medication cabinets that are currently used in hospitals/emergency departments. This device would store medication in bulk and is meant to interface with the software systems already in use in the emergency department, automating the process a bit more, and outputting the syringe loaded with only the needed medication. Stoop was able to produce a very comprehensive CAD model of the device, helping the group also take top honors in the engineering subcategory.
"Many medications commonly used in the emergency department are packaged in standardized-dose, single-use vials," explained Bare, a member of the AutoMedic team. "Even though a patient might only get half the medication from the vial, current policies require that the rest of the medication and the vial are thrown away after one use, meaning that every day a significant amount of drugs and materials are wasted."
The team was mentored by Dr. Sakina Sojar, a fellow in pediatric emergency medicine at Hasbro Children's Hospital. Sojar was the clinician who originally pitched the problem the group worked on and served as a resource throughout the weekend.
After the teams worked through the weekend to refine their solutions, spending hours brainstorming, collaborating and receiving feedback from mentors, they presented their work to a panel of judges that awarded the grand prize as well as prizes in five subcategories. The five subcategories were solutions related to emergency care, sustainability, social activism, technology and engineering, and were aimed to highlight the intersection of health care, entrepreneurship, technology and other fields.
Part "hack" (meaning creation across cross-sector entities), part marathon, Hack Health is a new kind of hackathon that aims to create solutions to medical problems and barriers. The weekend was an opportunity to work with fellow designers, engineers, developers, physicians, artists, entrepreneurs, mentors, and others to help develop tools that could change the worlds of medicine and health.