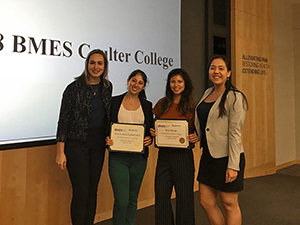 A group of four Brown University biomedical engineering students designed a solution to facilitate communication between doctors and non-English speaking patients at the 2018 Biomedical Engineering Society Coulter College Training Program competition in Minneapolis, Minn. over the weekend of Aug. 2-5. The Brown foursome, Colette Bare '19, Emily Borkowski '19, Adriana Trejo-Sheu '19 and Kelly Williams '19, took first place in both the design and the business venture capital pitch competitions. Lecturer Celinda Kofron served as the faculty mentor for the team.
BMES Coulter College is a training program focused on translation of biomedical innovations. Admission to the program is competitive, and this year 12 teams of 4 students each were chosen to participate. Kofron and the four students crafted an application in April and received word of their selection in early May. Mentors in key design areas guide student teams through a highly dynamic process designed to help them better understand how innovations can meet clinical needs, while providing tools and approaches used to develop novel solutions for identified clinical problems. The program is supported by funding from the Wallace H. Coulter Foundation, and for the first time this year, a corporate partner, Medtronic, hosted the event. This year's event was crafted by Prof. Jeffrey Garanich, City College of New York, and Prof. Matthew Walker, III, Vanderbilt University.
The core focus of 2018 BMES Coulter College was the design of new medical technologies with emphasis on health disparities and resource-constrained design. Teams were assigned one of three focus areas: chronic hypertension, chronic pain, or stroke. The Brown team, along with participants from Universidad de los Andes, University of Arkansas, and University of California Santa Cruz tackled chronic hypertension. Milwaukee School of Engineering, Rensselaer Polytechnic Institute, University of Minnesota, and University of Wisconsin-Madison took on chronic pain while Stony Brook University, University of Colorado Denver/Anschutz, Indiana University - Purdue University Indianapolis, and Virginia Commonwealth University undertook stroke. Over the summer, teams completed a pre-work assignment to gather background knowledge in their subject area and participated in two webinars. Teams were also encouraged to shadow and gain a clinical perspective of the problem. Brown's background collection included attending a talk by Drs. Herbert Aronow and Basma Merhi on device therapy for hypertension during Cardiology Grand Rounds at Rhode Island Hospital and shadowing Dr. Karen Woolfall-Quinn at the Veterans Affairs Medical Center.
Bare, Borkowski, Trejo-Sheu, and Williams arrived in Minneapolis on Thursday to partake in a full schedule of activities and design. Friday evening, they toured Medtronic Operational Headquarters, were welcomed by Dean Gilda Barabino of the City College of New York, and introduced to medical design in industry by Mark Breyen, Martin Gerber, and Michael Hill of Medtronic.
Friday morning kicked off early with a tour of Medtronic Physiological Research Laboratories. Teams then introduced themselves in two-minute presentations and learned about brainstorming from industrial designer Ty Hagler of Trig. Then it was time to really get to work - first, refining a need statement. In initial meetings with design mentors including Barabino, Brian Himelright of Trig, Elias Caro of the Coulter Foundation, Shawna Khouri of the Coulter Translational Fund, Alyssa Johnson of Medtronic, and Dr. Angela Fusaro of Emory, the team passionately laid out their desire to focus on an unmet need in their own backyard.
"We decided to focus on non-English speaking populations in Providence, R.I., since a strong relationship with a primary care physician is often the most important thing for effective treatment of hypertension," said Bare. They mulled over directing their focus on novel monitoring, interventions, and treatments of the disease, but with the encouragement of mentors such as Barabino, they followed their instincts that focusing on communication facilitation was a key to successful care of this patient population. After dinner at Medtronic, their evening (and much of the night) focused on conceptualizing an initial design and preparing a five-minute design pitch.