Many individuals are content staying in safe, familiar places. Others, like Steven Moya '94, not only embrace change but actively seek it.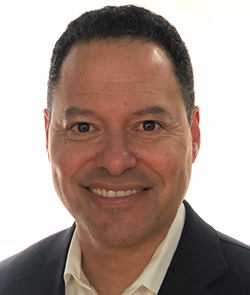 Moya was attending a prep school in Albuquerque, New Mexico and had participated in summer programs at Sandia National Laboratories and Los Alamos Labs when he met a representative from Brown University at a college fair.
"I was traditionally a conservative person, not only religiously but also socially and economically. As I learned more about Brown, I thought it would be a good opportunity to get exposed to something outside my assumed norm," said Moya. "And while the engineering programs in the other universities that were recruiting me were undergoing budget cuts, Brown's department seemed robust and forward-looking."
Situated in Providence, the University also offered new cultural experiences and an urban environment. Religious and political science classes, as well as co-curricular activities like intramural sports, rounded out his education.
"Electrical Engineering was a fantastic concentration," said Moya. "I enjoyed all my professors; all my classes. Hard or easy, it didn't matter; I just enjoyed them."
Moya left his own imprint as well. "I remember Steven from his sophomore year in my class Electricity and Magnetism," said Rod Beresford, professor of engineering. "He was an enthusiastic and energized student who was eager to get his hands dirty and welcomed any assignment of any size."
Navigating Brown and beyond
A good family upbringing with hard-working parents does not always translate into the funds necessary to attend a first-rate school. Moya's scholarships were "a tremendous benefit," but he also graduated with significant student loans. "At the time," he said, "I was just happy that I had the opportunity. Sometimes you must figure out a way to make it work."
Post-graduation, Moya was awarded a fellowship to study electrical and computer engineering at Carnegie Mellon. Then, with his master's degree in hand, he accepted a job on Wall Street, where the compensation levels allowed him to quickly pay off his student loans.
"It's sort of a cliché, but to me the best part of being an engineer is having problem solving skills: financial, social, political, or whatever," said Moya. "Engineers know how to approach a problem and gather the information and personnel needed. That's a very valuable asset in any area you choose to pursue. When I went to Wall Street, I had to learn finance in weeks and I didn't have any issues whatsoever."
Later, as president and CEO of General LED, Moya navigated the company through a huge expansion in the adoption of energy-efficient LED technologies. His training as an engineer at Brown, he believes, served him well through these times.
Making a positive impact
Moya is always looking for ways to help others, especially in their pursuit of higher education. His philanthropy is driven by the idea that he is making a positive impact on an individual, his or her community, and our society. Not surprisingly, his giving encompasses both the School of Engineering and financial aid.
"I don't think I can ever repay what Brown has done for me," said Moya. "So much of what I've accomplished to this point is thanks to Brown Engineering. However, I was fortunate that my first job provided sufficient earnings to repay my student loans in short order. Helping students graduate without any debt—or with only a minimal amount of debt—makes me feel good about giving back.
"Giving at any level matters. If enough people give even a little, it accumulates. I don't need to see immediate results. I don't even need to know how or whether it benefits me directly. But there is a feeling you get from knowing that, either short term or in perpetuity, you are helping others have an opportunity to do that which they may not otherwise get to do. And perhaps helping them contribute to the wider community in the future as well."
Steven Moya '94 serves as president and chief executive officer of General LED.