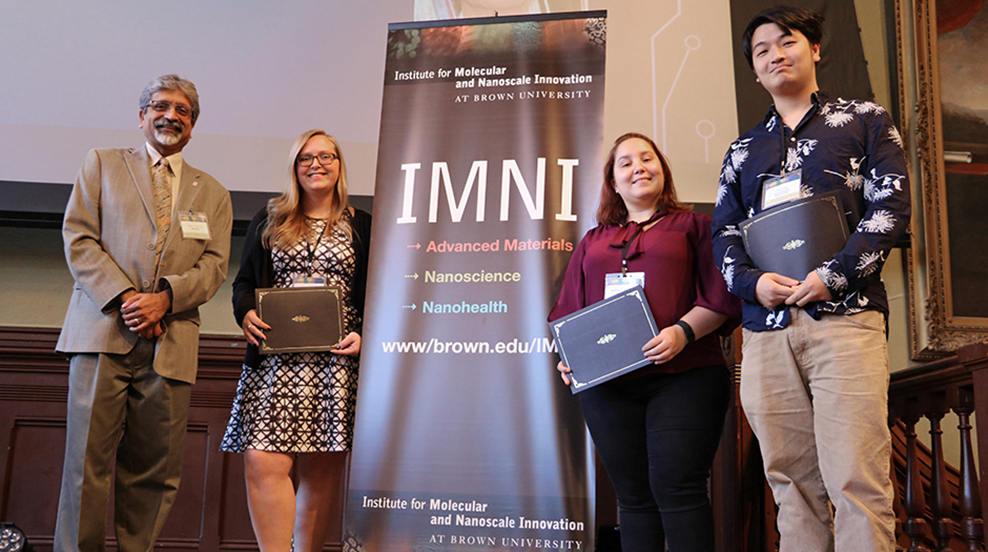 In celebration of ten years of Brown University's IMNI (Institute for Molecular and Nanoscale Innovation), a reception was held on Friday, Sept. 29 in Sayles Hall on campus. A poster session and competition for postdoctoral researchers and graduate students highlighted the anniversary, with the winners announced near the completion of the reception.
IMNI was founded in 2007, to serve as an umbrella organization to support centers and collaborative research in materials, molecular and nanoscale sciences and technologies. IMNI is a "polydisciplinary" venture with over 80 participating faculty members representing nine departments across campus, and 12 staff members. Its faculty members come from Chemistry; Computer Science; Engineering (Biomedical, Chemical/Biochemical, Computer, Electrical, Fluids/Thermal, Materials, Solid Mechanics); Geological Sciences; Physics; Molecular Pharmacology, Physiology & Biotechnology; Neuroscience; Ecology & Evolutionary Biology; and Pathology and Laboratory Medicine. IMNI also manages three major core research facilities: the Microelectronics Facility, the Electron Microscopy Facility, and the NanoTools Facility, as well as the Joint Engineering/Physics Instrument Shop.
"The intent of the founding of IMNI was to seize the exciting research opportunities that often reside at the interfaces of disciplines," said Engineering Professor and current IMNI Director Nitin Padture, host of the 10th anniversary event. "It was also built to tackle society's toughest problems – energy, environment, security, health, transportation, telecommunications – none of which know disciplinary bounds."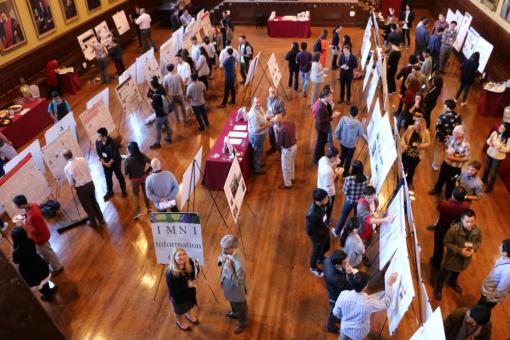 Padture spoke at the reception, referring to IMNI's continued vision and focus, which includes hosting distinguished seminar speakers, providing research and training opportunities to students, acquiring seed funding for nascent interdisciplinary research ideas, and submitting and managing multi-investigator, interdisciplinary block-grant research proposals.
Hua Zhu, a graduate student working toward his Ph.D. in Chemistry, took first place in the poster contest with "Anisotropic Nanocrystal Synthesis, Self-Assembled Superstructures and Pressure-induced Transformations." Biomedical Engineering Ph.D. candidate Bethany Almeida took second place with her poster "Advanced Approaches to Employing Chemical and Physical Cues for Mesenchymal Stem Cell Differentiation" and Materials Engineering Ph.D. candidate Laura Turcer placed third with her research on "High Temperature Interactions Between Environmental Barrier Coating Ceramics and Calcium-Magnesium-Alumino-Silicate (CMAS) Glass."