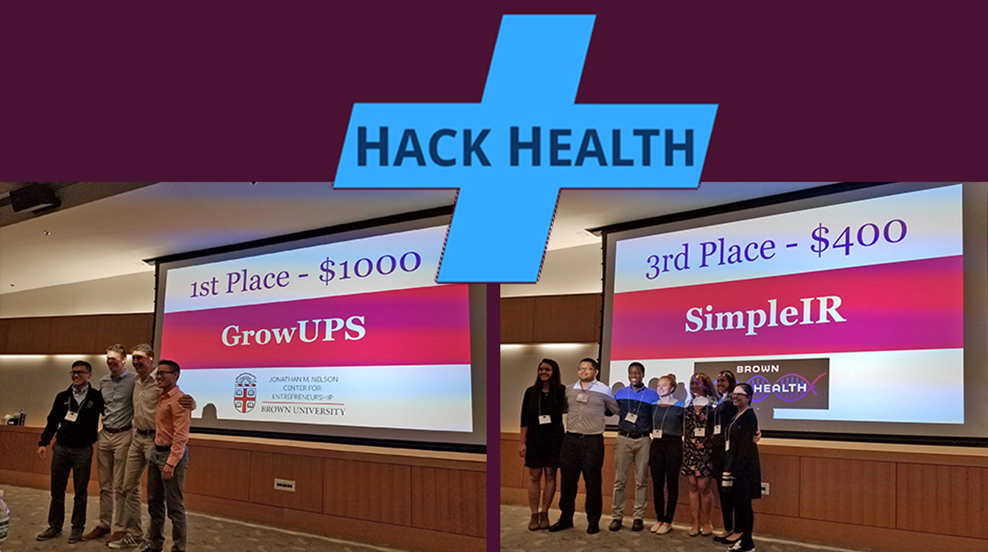 Brown University held Hack Health 2017 at the Warren Alpert Medical School over the weekend, and two projects with roots in the School of Engineering took first and third places among the 17 projects in the competition.
Part "hack" (meaning creation across cross-sector entities), part marathon, Hack Health is a new kind of hackathon that aims to create solutions to medical problems and barriers. The weekend was an opportunity to work with fellow designers, engineers, developers, physicians, artists, entrepreneurs, mentors, and others to help develop tools that could change the worlds of medicine and health.
More than 100 students from New England area schools participated, and three engineering-focused projects swept the awards. GrowUPS team members Matthew Lo '18 (biomedical engineering), Alexander Lo '18 (biomedical engineering), Mark Hays '18 (biomedical engineering), and Franklin Tarke '18 (mechanical engineering) took first place and overall Best Engineering Project. Their project focused on low-cost, adjustable, universal prosthetic sockets that could be customized for patients in developing countries with above-the-knee amputations.
Brown's SimpleIR, made up of team members Sarah Syrop '17 ScM '18 (biomedical engineering), Kabisa Baughen '17 ScM '18 (biomedical engineering), Christina Andrews '17 ScM '18 (biomedical engineering), Karisma Chhabria '19, Wellesley's Subha Baniya, MIT graduate Raymond Asare, and Memorial Sloan Kettering Cancer Center Research Associate Prakrit Jena, took third place. The SimpleIR device is a low-cost, battery powered device that uses a silicon mat embedded with infrared LEDs combined with filtered glasses to aid clinicians in visualizing veins and arteries during blood draws. Use of this device ideally will result in reduction of the high failure rate of the blood draw procedure. The SimpleIR was designed to be significantly more accessible in low-resource settings than other technologies currently on the market.
Directed Step, a team comprised mostly of students from the University of Rhode Island, took second place with their project which worked on a prosthetic alignment device.
The keynote address was given by Rajiv Kumar '05 MD '11, co-founder of ShapeUp, a wellness company that leveraged social connections to enhance employee health. As CEO, he led the growth of ShapeUp from a two person start-up to a global company which was acquired by Virgin Pulse in 2016 and had over 2 million participants. Currently, he serves as Chief Medical Officer of Virgin Pulse and President of Virgin Pulse Institute.
Several School of Engineering faculty members served as mentors and judges during the weekend event, including Anubhav Tripathi, Trey Crisco, Barrett Hazeltine and Celinda Kofron.