Natalia Ignatyeva, the Brown University School of Engineering Faculty Affairs Coordinator, has received the fifth annual Dean's Service Award. The award, established during the 2012-13 academic year, was created to recognize a non-managing employee who has made a specific contribution or provided outstanding service in the School of Engineering.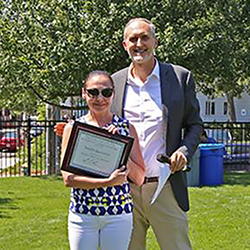 The award is an opportunity to recognize the performance of an individual who has been a positive instrument of change; made significant contributions; and who has provided outstanding service to both internal and external constituents.
Nominated by both faculty and staff members, Ignatyeva joined the school in July of 2016, and has quickly proven herself to be a valuable member of the Faculty Affairs team in the School of Engineering. A hallmark of her performance over the past year was to make significant suggestions for process improvement that created efficiencies in the processing, managing and organization of both electronic and hard files, as well as fostering the trust of the Dean, engineering faculty and the Dean of the Faculty.
As Faculty Affairs Coordinator, Ignatyeva processes a large number of appointments, the majority of which involve visa applications, and she was instrumental in supporting the 2017 engineering search processes so that offers could be made quickly to high priority candidates.
She was presented with the award from Engineering Dean Larry Larson at the School of Engineering's annual summer cookout.