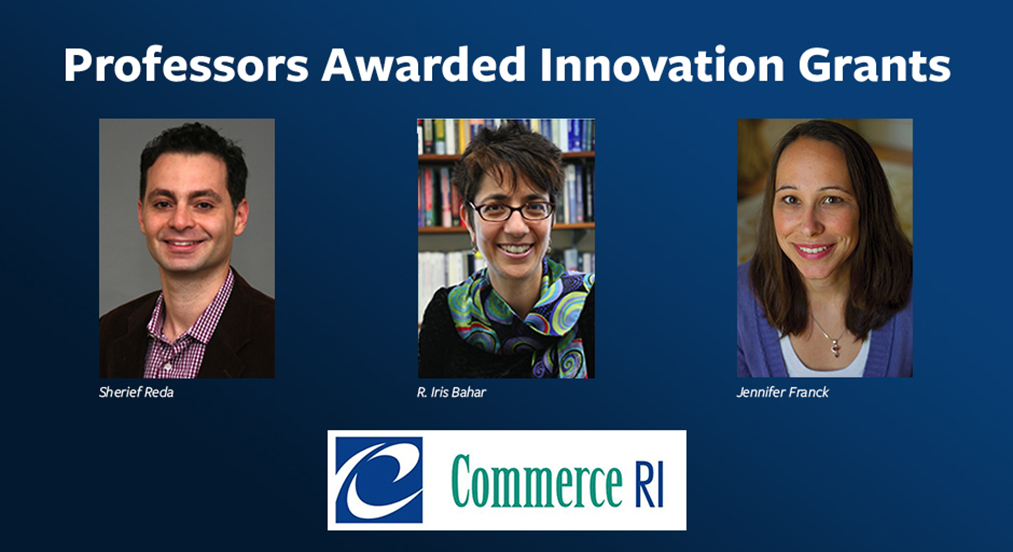 Two local companies will partner with Brown School of Engineering faculty members Iris Bahar, Jennifer Franck and Sherief Reda, sharing $100,000 in the next round of Innovation Vouchers awards. The Innovation Voucher program lets small businesses unlock research and development capacity in Rhode Island, as the companies receive the grant to fund R&D assistance from a university, research center or medical center.
"When local companies are better able to partner with our universities, they can produce discoveries and advancements in science, technology, medicine and countless other fields that have the potential to grow jobs, strengthen our state, and build an innovation economy we can all be proud of," Governor Gina M. Raimondo said in a statement.
Aquanis LLC of North Kingstown is joining with Engineering Lecturer Franck to advance a novel flow control technology for application on wind turbine blades. Franck is a member of the fluids and thermal sciences group within the Brown School of Engineering. Her research expertise is in computational fluid dynamics (CFD), particularly the ability to simulate complex, turbulent flows that often occur in engineering and renewable energy applications. Aquanis is developing an active flow control system that will improve the efficiency and extend the service life of wind turbines, leading to a reduction in the cost of wind energy. Wind power, which currently accounts for about four percent of the total U.S. grid energy consumption, is a major component in the U.S. government's renewable energy initiative, and its greater adoption depends on continuing cost reduction. In the proposed project, the simulations performed by Brown's Franck will provide critical information to aid in the development, field trials and commercial deployment of Aquanis systems in the wind energy market.
Videology Imaging Solutions, Inc. in Greenville, RI has partnered with Brown's Computer Engineering & Scalable Computing Systems Lab to allow the company to expand upon their current product lines by incorporating biometrics imaging of the human iris. Videology Imaging Solutions is an imaging technology development company that designs, develops, and produces cameras for government, defense, banking and medical applications. The partnership with Brown will lead to custom silicon chips for iris feature extraction algorithms that will be deployed in Videology's newest cameras to deliver standard compliant images for biometric/iris analysis. Both Associate Professor Reda and Professor Bahar have research interests that include algorithms and computer architectures for custom computing systems.