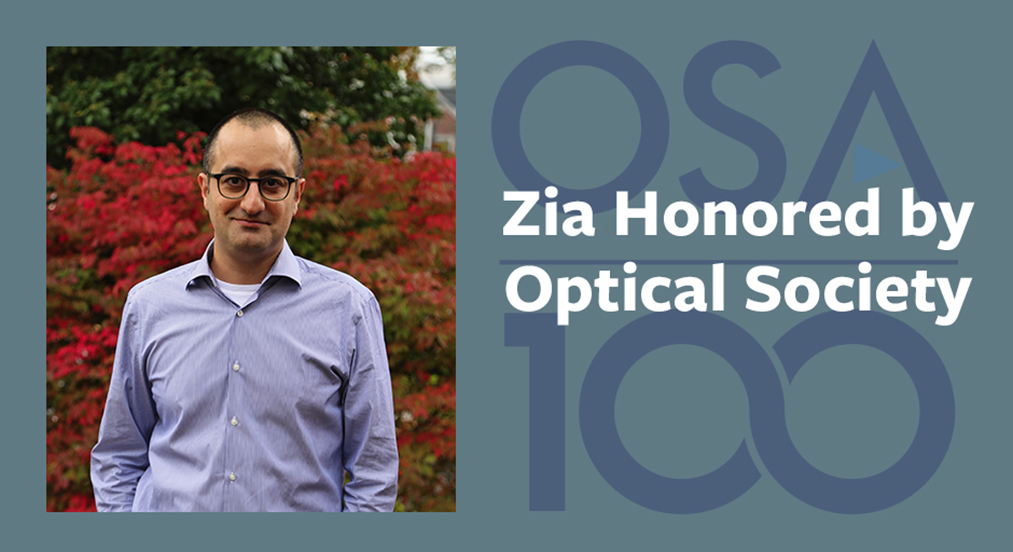 Brown University Associate Professor of Engineering and Physics Rashid Zia has been named a Fellow of the Optical Society (OSA). Zia is being recognized "for seminal contributions to the field of nanophotonics, including pioneering work on surface plasmon waveguides, optical-frequency magnetic dipole transitions, and energy–momentum spectroscopy."
Zia's research group at Brown works at the interface of electrical engineering, materials science, optical physics, and physical chemistry to study how light interacts with solid-state quantum emitters, including atoms, defect centers, ions, molecules, and quantum dots. For this work, he has previously received a National Science Foundation CAREER Award and a Department of Defense nominated Presidential Early Career Award for Scientists and Engineers (PECASE). Zia has also served as a Fellow of the National Forum on the Future of Liberal Education, and he is the lead PI for an ongoing Multidisciplinary University Research Initiative (MURI) on Quantum Metaphotonics & Metamaterials sponsored by the Air Force Office of Scientific Research.
A 2001 graduate of Brown with a dual degree in both English and American Literature and Engineering, Zia completed his master's and Ph.D. degrees in electrical engineering from Stanford University.
As an OSA Fellow, he joins a distinguished group of members who have served the Society and optics and photonics community with distinction. Fellows of the Optical Society are elected based on their significant contributions to the advancement of optics and photonics and are selected based on several factors, including specific scientific, engineering, and technological contributions, a record of significant publications or patents related to optics, technical or industry leadership in the field, as well as service to OSA and the global optics community.
Founded in 1916, OSA is the leading professional organization for scientists, engineers, students and entrepreneurs who fuel discoveries, shape real-life applications and accelerate achievements in the science of light. Through world-renowned publications, meetings and membership initiatives, OSA provides quality research, inspired interactions and dedicated resources for its extensive global network of optics and photonics experts.