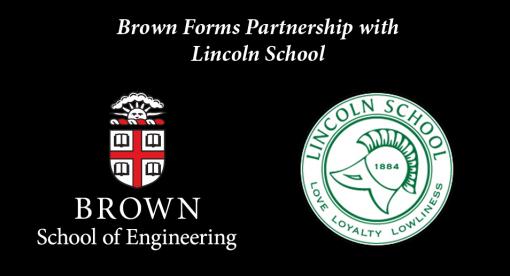 Lincoln School is partnering with Brown's School of Engineering and the Sheridan Center for Teaching and Learning to offer the course, Introduction to Engineering, to Lincoln students. The course will be taught in the School of Engineering at Brown and will take advantage of the newly established Brown Design Workshop. The Sheridan Center for Teaching and Learning will work with both Lincoln School and the School of Engineering to aid in the course design and student-centered pedagogy.

It is especially exciting for the School of Engineering to partner with Lincoln, an independent school that is dedicated to the education of young women. Nationwide, there have been efforts to increase the number of women who choose to enter the engineering profession. By engaging young women at Lincoln there is an opportunity to introduce them to the excitement of engineering earlier than is often possible for most high school students. Professors Iris Bahar and Clyde Briant will lead the effort for the School of Engineering, and Dr. Kathy Takayama, Executive Director of the Sheridan Center, will lead the effort for the Sheridan Center.

"We are very excited to work with Lincoln School on this program. It offers an opportunity to engage young women in engineering while they are at the high school level and to pioneer pedagogical methods of teaching engineering to students in high school," said Briant.

"Lincoln School is very excited to be partnering with Brown's School of Engineering and the Sheridan Center for Teaching and Learning," said Suzanne Fogarty, Lincoln School's Head of School. "Lincoln is a school devoted to promoting STEAM initiatives for girls and young women and this collaboration allows our students to take advantage of Brown's excellent facilities and teaching resources while exploring engineering as an option for future study. Our shared mission is closing the gender gap in engineering."

The course will include both laboratory and analytical components and introduce students to the engineering profession, engineering design, CAD, analysis of static structures, 3D printing, engineering materials, and electronics. The students will also gain practice in applying math concepts to engineering problems. The course will meet once a week for three hours and students will receive credit at Lincoln School for the course. The Lincoln students' projects and experiences will be showcased through e-portfolios. A major goal will be to help the students explore their own interests in this field and also appreciate the contributions that engineering makes to society.