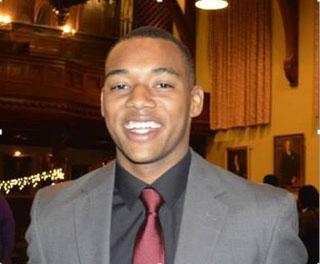 Brown's reinvigorated chapter of the National Society of Black Engineers will host the NSBE New England zone conference Saturday.

PROVIDENCE, R.I. [Brown University] — Brown University's School of Engineering will host the New England zone conference of the National Society of Black Engineers (NSBE) on Saturday, Oct. 18, 2014. The daylong conference will feature activities and workshops aimed at helping students from under-represented groups succeed in science, technology, engineering, and math fields.
About 60 students from universities in Massachusetts, Connecticut, and Rhode Island are expected to attend. Students from several Providence area high schools, including Juanita Sanchez Education Complex, Central High School, and Times Squared Academy, are expected to attend as well.
"The theme of the conference is academic and professional excellence," said Johnathan Davis, a junior at Brown and chair of the planning committee for the conference. "We want students to leave the conference feeling better about themselves and ready to get the most from their academic work."
The effort to bring the conference to Brown was spearheaded by the University's NSBE chapter, which reformed last year and now includes about 30 active members.
"We restarted the organization because we felt there was a need," said Davis, who serves as secretary for the chapter. "We want to create a community where minority students can work together and help each other succeed in the STEM fields."
When the opportunity to host the conference presented itself, the group jumped at the chance.
"We have a lot of energy," Davis said. "Why not take on this challenge?"
The conference schedule includes workshops on advanced study skills, careers in engineering and resume writing. Workshop topics for high school students include choosing and paying for college. Several members of the Brown engineering and computer science faculty will take part, and a keynote address will be given by Oscar Groomes, a graduate of Brown and Tougaloo College and former president and CEO of GE Rail Services.
- Kevin Stacey