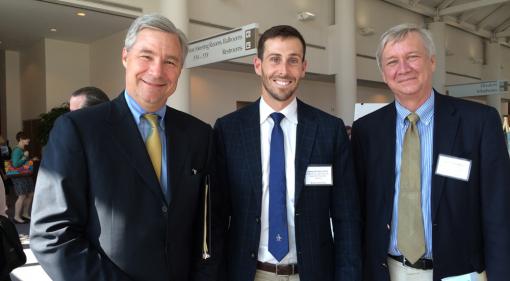 Sen. Sheldon Whitehouse convened his Fifth Annual Rhode Island Energy and Environmental Leaders Day Friday at the Rhode Island Convention Center. Faculty and staff from Brown's Superfund Research Program were on hand to discuss their work.
Brown faculty and staff from the Superfund Research Program were on hand at the invitation of U.S. Sen. Sheldon Whitehouse (D-RI) to participate in the Fifth Annual Rhode Island Energy and Environmental Leaders Day at the Rhode Island Convention Center Friday, Sept. 5, 2014.
James Rice, an engineering postdoctoral researcher, joined Eric Suuberg, professor of engineering and SRP co-director, and Marcella Thompson, liaison to state agencies for environmental health, to present their research program to fellow attendees at the daylong event.
"We are here to talk about how our research focuses on toxicity of environmental contaminants and the technical challenges associated with them," Rice said. For example, "We look at vapor intrusion of chlorinated solvents — the movement of man-made contaminants from the water table beneath a home or a business up into the air inside. We look at the engineering aspects, but we also look at the toxic effects of exposure."
Among the issues the program staff studies is why the levels of such contaminants vary from day-to-day or even hour-to-hour.
Presenting at Sen. Whitehouse's annual event is valuable for the program, Rice said, because it provides a chance to network with policymakers and community stakeholders who might not be keeping up with such research in the academic literature. The team can both talk about what SRP does and get feedback about what research would matter to the stakeholders.
"One of the things that we believe in is research translation and community engagement," said Rice, who serves as the SRP's liaison to state engineering agencies and was speaking by phone from the Convention Center. "This allows us to get the research out the door. There's a whole bunch of people here including decision makers and policymakers like Sen. Whitehouse, but there's also local community members, small business owners, lawyers and redevelopers. We're talking to all of them."
- David Orenstein