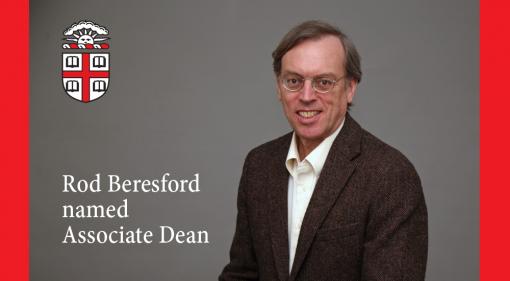 Professor Rod Beresford has been named Senior Associate Dean for Academic Programs at the Brown University School of Engineering, effective July 1, 2014.
Beresford recently served as Associate Provost of the University until 2014. While in the Provost's office, he managed the campus academic space portfolio. One of his most important accomplishments was his leadership, along with Dean Karen Sibley, of the development of Brown's first executive master's program in healthcare leadership. This program sets the stage for Brown's entry into an important new educational arena.

"I want to thank Rod for agreeing to take on this vitally important role in the School, and I look forward to working with him to realize our ambitious goals for the future," said Dean Larry Larson.

Beresford earned degrees in electrical engineering from Yale University (B.S. 1979, M.S. 1981) and from Columbia University (Ph.D. 1990). He has published over 70 scientific and technical papers on semiconductor materials and devices. His current research emphasizes synthesis and modeling of nanostructures. He has worked on molecular beam epitaxial growth of III-V semiconductors since 1987 and served on the advisory board of the North American MBE Conference for many years. Beresford is also a senior member of the Institute of Electrical and Electronics Engineers (IEEE), member of the American Physical Society (APS), and Sigma Xi.