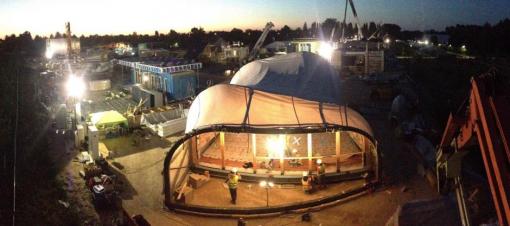 A team of students from RISD, Brown, and the University of Applied Sciences Erfurt, now in France, has unpacked and reassembled a solar house they built in Providence this spring. They are in an international competition on the grounds of the Palace of Versailles.

PROVIDENCE, R.I. [Brown University] — Students from Rhode Island School of Design (RISD), Brown University and the University of Applied Sciences Erfurt, Germany, have been hard at work for nearly two years designing and building their one-of-a-kind entry for the 2014 Solar Decathlon Europe — and the time has come to show their work to the world.
From June 28 through July 14, the grounds of France's Palace of Versailles will be transformed into a solar-powered village, showcasing 20 sustainable homes built by college students from around the globe. Among them will be a house like no other — Techstyle Haus — with a roof and walls made not of wood or metal but almost entirely of durable, high-performance textiles.
The team – officially called "Team Inside/Out" in the competition – spent the spring semester in Providence constructing the home's structural supports, attaching its signature textile shell and adding the flexible solar panels that will provide all the power the house needs – and then some. After determining that everything was in working order, the team carefully disassembled the house, packed it into five shipping containers, and shipped it across the Atlantic, where the teams had 10 days to build their houses on site before judging formally opens on June 28.


Highly efficient and livable: Techstyle Haus uses 90 percent less energy for heating and cooling than a similar conventional house.Designing and constructing a highly efficient solar home with textiles is no simple task, and the team set the bar high. To reach the Passive House Standard – a house that uses 90 percent less energy for heating and cooling than a standard house – the house's innovative textile wall assembly required a design that combined highly efficient insulation with materials that resist fire and dampen sound. The plumbing, heating and cooling systems, placed in a compact mechanical core, are the picture of efficiency, running on the power it would take to operate a hair dryer. Solar photovoltaic cells and solar thermal units are used to harness energy. The photovoltaic array covering the curved surfaces is innovative, lightweight, flexible and efficient. The curvature helps capture more solar energy over the course of a day than a flat system would.
One of the most spectacular tasks during the initial construction in Rhode Island was stretching the innovative outer textile shell over the 800 square-foot house, which is made of a flexible fiberglass material called Sheerfill® II Architectural Membrane with EverClean® Photocatalytic Topcoat. The material is often used for roofs of domed stadiums, airplane hangars, and other large structures, but has never before been used in residential construction.
How does this all really work? Take a look at the Techstyle Haus video.
The truly interdisciplinary team, including art and design students from RISD, engineering students from Brown, and architecture students from Erfurt (who specialize in passive house design), consulted with companies from all over the world as they designed and built their house. Shawmut Design and Construction trained the students in safety and helped with construction management. Saint-Gobain, maker of the Sheerfill® II shell, and Birdair Inc., a company that built the sweeping fabric roof on the Denver International Airport, consulted on the outer shell. Viessmann and TACO HVAC helped with the HVAC system, and Zola Windows, a passive house standard window company, fabricated the large windows that make up most of the house's front and back walls. Other primary sponsors include Solar Decathlon Europe 2014, Pvilion, BMWi + EnOB, Schneider Electric, Ximedica and HB Welding. A complete list of sponsors is online at techstylehaus.com.


Never before in residential construction: The gracefully curved exterior of Techstyle Haus uses a textile shell normally seen in domed stadiums, airplane hangars, and other large structures.And while all of this work is being done for a good showing at the competition, the students are well aware of the bigger picture. The ultimate aim of the event is to spread the word about clean energy and sustainable living. Thousands of people are expected to attend and tour the homes, and with that, the team is hoping to change the way people think about building materials and inspire them to push the limits of architecture, design, and engineering.
They're even thinking about the structure's life after Versailles. After the competition, the team will bring the house to Domaine de Boisbuchet, the site of annual interdisciplinary art and design workshops, to act as student housing. In doing so, they will use Techstyle Haus to promote the practice of sustainable living to future generations and serve as a model for a new type of living that works with all aspects of environment. The house will continue to be monitored by the team so that future iterations can be improved.
"This project has been a great opportunity for us to reconsider how we think about energy efficiency and the play between function and form," said Helen Bergstrom, a chemical engineering student at Brown University and project engineer. "It has been amazing to see how efficiency optimization can be used to create a structure that is seamless, elegant, and comfortable. If someone had told me two years ago that students could design and build a home out of fabric that produces over 50 percent more energy than it uses I would not have believed it. I think we have all surprised ourselves and our communities."
High-resolution photos are online at www.flickr.com/photos/124177118@N07/

- by Kevin Stacey