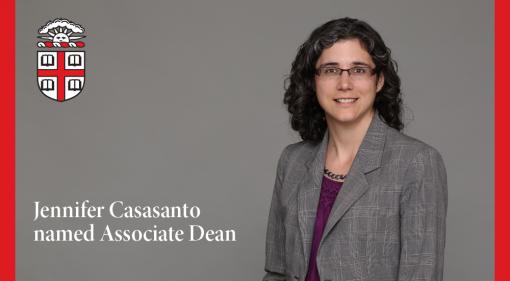 Jennifer Casasanto has been named the Associate Dean for Programs and Planning in the School of Engineering at Brown University. She began her duties on June 2.

Casasanto comes to College Hill from Harvard's School of Engineering and Applied Sciences, where she was the Director for Education and Research. Prior to that, she has experience working as a project manager in private industry.

In over a decade at the School of Engineering and Applied Sciences at Harvard, Casasanto has had a wealth of experience across many areas, including industry outreach and research planning, fundraising, administrative leadership and planning, educational program development, and space planning. She has also served as a member of the SEAS senior management team.

"Harvard SEAS embarked upon a growth initiative similar to ours several years ago, so Jennifer brings a unique perspective in managing growth strategy and understanding the challenges and opportunities facing an evolving School of Engineering," said Larry Larson, Dean of the Brown School of Engineering. "Her experience, enthusiasm and energy will serve us well as we all work toward meeting the growth goals of the School."

Casasanto holds a bachelor's degree from the University of Massachusetts, and is finalizing a master's degree in liberal arts in the history of science from the Harvard Extension School.