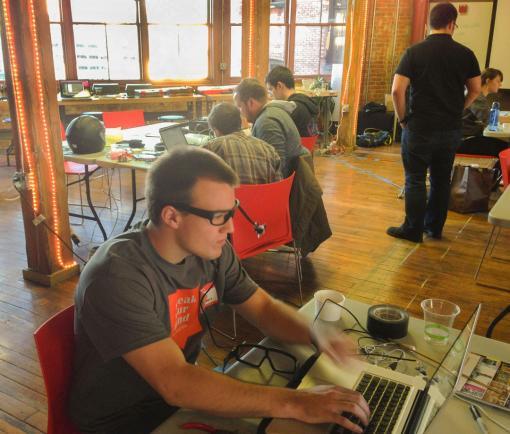 This year all 75 seniors in the C.V. Starr Program in Business, Entrepreneurship and Organizations (BEO) are required to complete a capstone project. They work in teams to help local startups, nonprofits, and other organizations solve problems or successfully expand operations. The learning is significant on both sides.
PROVIDENCE, R.I. [Brown University] — Elizabeth Weber has big plans for next year.
When she graduates from Brown in May, she'd like to start her own company — a start-up that rethinks arts education for kids. To get her venture off the ground, she plans to raise money through crowdfunding and hopes to entice a few angel investors. And thanks in part to a capstone project Weber completed this semester as a student in Brown's C.V. Starr Program in Business, Entrepreneurship and Organizations, she can be confident she has the skills to make her idea fly.
This year, for the first time, capstone projects are required for all 75 BEO seniors. In groups of four or five, the students are partnering with Rhode Island businesses and organizations to address real-world problems in the business and nonprofit world. The one- or two-semester projects provide an opportunity for the students to apply what they've learned at Brown while making a real impact in the community. (See a list of capstone projects for 2013-14.)
Weber and four classmates worked throughout the fall semester with the SpeakYourMind Foundation, a nonprofit that grew out of Brown's BrainGate lab. The foundation develops and distributes assistive tools for people with neurological conditions that limit their ability to communicate. Their low-cost technologies include eye and motion trackers that help people with paralysis to operate computers. The group works closely with each of their clients to get the devices up and running properly.
But in order to expand and help more people, the foundation needed a strategic plan. That's where the BEO students lent a hand. They helped to evaluate possible revenue streams, devised a plan to build the foundation's brand identity, and worked to implement a marketing strategy.
"Academically, it's been a great opportunity to apply much of the theory I've learned in my classes on organizational dynamics, leadership, and entrepreneurship to a real-life setting," Weber said. "It allows me to go deeper in my understanding of concepts and their importance to what I want to do in the future."
The centerpiece of the plan the students developed with SpeakYourMind is a crowdfunding campaign on Indiegogo that kicked off December 18. A stakeholder map developed by the students helped the foundation target the right people to maximize the effort. The students have also been active in creating a social media presence for SpeakYourMind, more than doubling the foundation's Facebook likes over the last few months.
"I think the most exciting thing about our work with the BEO students is that we are and will continue to directly implement what they worked on this semester," said Dan Bacher, a research engineer at Brown and SpeakYourMind's founder and executive director. "We have plans to build off of their work to further refine our budget and explore different business and organizational models as well."
The SpeakYourMind project is one of 16 projects BEO students worked on this semester. The projects are split into three categories reflecting the three tracks offered in the BEO program. Four projects focus on entrepreneurship and technology. Six, including SpeakYourMind, focus on social innovation. Six others focus on business, consulting, and finance. A few of the projects wrapped up this semester, but most will go on into next. The specifics of each project vary widely.
One group in the social innovation category worked with Farm Fresh Rhode Island, a nonprofit that supports local sustainable farming. The students realized that the organization gets a high volume of inquiries from similar organizations around the country looking for advice. The BEO group is exploring ways Farm Fresh might parlay its expertise into a suite of consulting services that could bring additional revenue to the organization.
"The Business, Entrepreneurship and Organization students did an excellent job over the course of the semester," said Sheri Griffin, co-executive director of Farm Fresh. "They were comprehensive in their research, developed a good understanding of our organization and scope of work, and adapted the project over the course of the semester to best address our current needs. We look forward to working with them over the course of the spring on the next phase of the project."
Among the technology projects, one group is working with a Rhode Island-based inventor who is developing water-resistance exercise machines aimed at helping older people recover from falls and fractures. The BEO group is helping to analyze intellectual property issues, find target markets, and evaluate competitive technologies.
In the consulting and finance track, one group worked with the Rhode Island Treasurer's office to find ways to increase enrollment in the in the state's College Bound 529 fund.
Applying what they learn
Brown's BEO program, which is sponsored by the departments of Economics and Sociology and the School of Engineering, started in 2006 as the Program in Commerce, Organizations and Entrepreneurship. The capstones grew out of an academic review of the BEO program conducted by the dean of the College in 2011-12.
"They said you're doing very well academically; there's a lot of student interest," said Brendan McNally, associate director of BEO. "But given the interdisciplinary nature, you're a perfect candidate for a capstone that pulls together the many disciplines that the students are exposed to."
McNally then went out into the community to look for potential partners. By the beginning of last semester he had nearly 20 organizations interested in working with students, and he's pleased with they way the projects have panned out so far.
"The students are learning," he said. "They're applying things really well. The organizations are all very happy with the quality of the students' work."
McNally believes the hands-on experience has been invaluable, both for the students who aim to create their own entrepreneurial ventures and those who hope to work for larger companies.
"I tell our students, 'Remember that theory we talked about on conflict among workers?'" he said. "That's what you're seeing when you see these two people argue about what the strategy of the company should be. A lot of this capstone is applying these academic theories. Students have seen the literature and the research; now they've had to apply it for the capstone. That's absolute gold when you're looking for a job."
But more than just applying academic concepts, the students get something else from the projects that's hard to measure. For Elizabeth Weber, that intangible was getting a chance to watch SpeakYourMind founder Dan Bacher in action.
"I've learned a lot from watching and observing him," Weber said. "He's bold and optimistic. He has a winning attitude that inspires my own entrepreneurial confidence."
- by Kevin Stacey