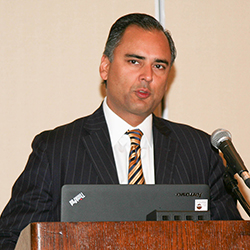 Fazle Husain, is the newest member of the Engineering Advisory Council to Brown's School of Engineering.
"Studying engineering at Brown was exciting and challenging. We were all in a discipline that was new to us—no one studies engineering in high school. It was very rigorous and structured, especially in the context of the freedom of a Brown education. But it was dynamic and exciting, too. We didn't have TAs teaching classes and grading exams—the professors were fully engaged and always had time for us.
"When I was thinking about applying for an MBA at Harvard Business School, I asked Professor Eric Suuberg, my engineering advisor during senior year, his opinion about getting a business degree after Brown. He told me to go for it, that engineering and business complemented each other. His encouragement meant a lot to me; he even wrote a letter of recommendation.
"That philosophy—it's Brown's philosophy, really—let me use my education to further what I wanted to do in life, not what others thought I should do. I think if I had gone to a lot of other universities, I may have been pigeonholed into following my major. But right after graduating in chemical engineering, I worked on Wall Street, gaining valuable business experience. That's a testament to a truly broad-based education and forward-thinking academic advisors.
"I'm so pleased that the engineering program has grown into the School of Engineering at Brown. I've got to know Dean Larry Larson over the past 18 months and believe that he has a strong vision for engineering at Brown and has provided great leadership at an important time. The decision to locate the new engineering building on College Hill (and not the jewelry district) was a great decision. I was honored when Larry asked me to join the Engineering Advisory Council. I have recently become involved and there is a lot of good discussion on important topics like faculty recruiting, the new engineering building, and the growing biomedical engineering program. There is much to be done over the next four or five years, but it seems like engineering is a big part of Brown's future.
"I recommend an engineering major to anyone who has an interest in math, sciences or research. The engineering discipline sharpens quantitative and problem-solving skills, crucial in a wide variety of professions. And an engineering degree can lead to success in other professions—like business, entrepreneurship, marketing, product development and life sciences—as well."
M. Fazle Husain is managing director of Metalmark Capital. He and his wife Blair McClure Husain, a jewelry designer, live in New York City with their three children.