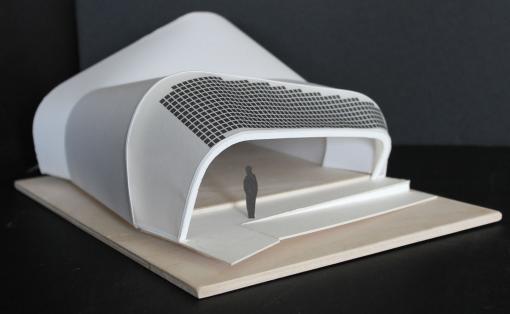 Students at Brown, RISD, and the University of Erfurt are tackling a great challenge: Build a house that uses 90 percent less energy than a typical house, make it liveable, flexible, durable, and lightweight enough to be shipped from Providence to France — and design it better than 19 other top teams from around the world. That's the Solar Decathlon. The Brown-RISD-Erfurt team calls its entry the "Techstyle Haus."
PROVIDENCE, R.I. [Brown University] — For two weeks next July, the grounds of France's Palace of Versailles will be transformed into a solar-powered village, showcasing sustainable homes built by college students from around the world. Among them will be a house like no other, with a roof and walls made not of wood or metal, but almost entirely of durable, highly insulated textiles.
Techstyle Haus is the brainchild of students from Brown, RISD, and the University of Erfurt in Germany and will be one of only two entries by a U.S.-based team in the 2014 Solar Decathlon Europe. The international competition pits 20 teams against each other in 10 challenges to see who can build the most energy-efficient, innovative, and livable solar house.
The Techstyle Haus team was accepted into the competition last December after submitting a preliminary proposal. Since then, the students have been hard at work refining their designs, choosing materials, and engineering the house's key systems. Construction is set to begin in Providence in January. In the spring, the finished product will be partly dismantled and shipped to the competition site at Versailles — the former home, appropriately enough for a solar competition, of France's Sun King, Louis XIV.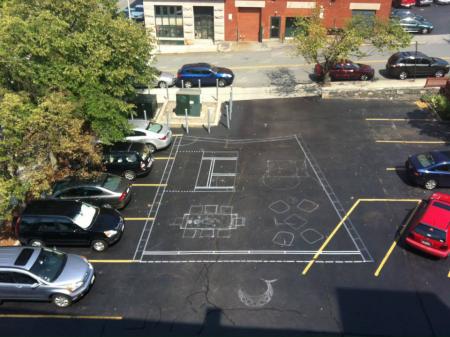 From the beginning, the team set out to push the envelope of what was possible in sustainable construction.
"This isn't a competition about going through the existing standard of building a house," said Eliza Brine, a team member and third-year student in the Brown School of Engineering. "This is about creating a new way to do it."
First and foremost, the team wanted a house that met the highest standards of efficiency. But they also wanted a home that was flexible and livable, with an interior that could be reconfigured to accommodate different uses — extra bed space for houseguests or more open space for a dinner party. Building with lightweight materials was an important consideration as well. All the construction materials will need to be sent to the competition site in France, so identifying materials that could be shipped cheaply and sustainably was important. After all, sustainability is the point of the competition. "If we show up with ten flatbeds and all this heavy equipment, what statement are we making about sustainability?" said Gareth Rose, a second-year engineering student.
The team's solution was to build with textiles.
Techstyle Haus's outer shell will be made of a robust synthetic fabric — similar to the fabrics used on roofs of domed stadiums — supported by three structural ribs made of wood. Interior walls will also be made of fabrics, to make the space transformable. The house's plumbing, heating, and air conditioning systems will be placed in a central hub, which makes for easy access and structural efficiency.
But building a highly efficient solar home with textiles comes with a myriad of challenges, and the team members have set a high bar for themselves. They're aiming to meet the standard for a passive house — one that uses 90 percent less energy than a standard house.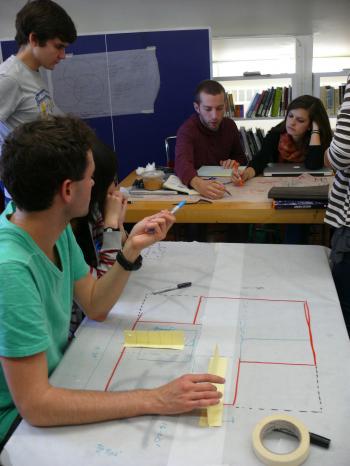 To reach that standard, the house's textile walls require a design that combines highly efficient insulation with materials that resist fire and dampen sound. The heating and cooling system will need to be the picture of efficiency, running on less power than is required to run a hair dryer. The solar array will need to be flexible to cover the curved surfaces of the house's textile roof.
Each of these challenges requires a novel solution, which the team will continue to refine over the next nine months. Ten Brown engineering students have made the Solar Decathlon project into an independent study course this semester and next. At RISD, nearly 40 students are engaged in the project in their coursework this semester. Derek Stein, associate professor of physics, and engineering lecturers Chris Bull and Kurt Teichert have incorporated aspects of the Solar Decathlon project in their classes.
Stein, one of the faculty mentors on the project, is impressed with the way the students have managed this project so far. "The contest states very clearly that this is a student-run project," he said. "There are faculty advisers, but every team role is filled by a student. And our students have been handling those responsibilities wonderfully."
With all the challenges facing the team over the next nine months, they've already overcome what might have been the toughest one: convincing people that the project could be done in the first place.
"The first time we pitched the project to industry people was last spring in Germany, and they ripped us apart," said Matthew Breuer, a fourth-year engineering student. "They initially didn't think it was possible. But we refined our design and now they're really excited. They're partnering with us."
Those industry partners include Saint-Gobain, a green materials company; PVillion, a maker of solar panels; Veissmann, a heating system company; Taco, a Rhode Island-based maker of heat transfer systems; DPR Construction, an Atlanta-based contractor; and Shawmut Design and Construction, a Boston-based builder.
So far the team has raised more than $500,000 in cash, materials, and consulting expertise. All told, they expect to raise over $700,000 to complete the project.
And while all of this work is being done for a good showing at the competition, the students are well aware of the bigger picture. The ultimate aim of the event is to spread the word about clean energy and sustainable living. Thousands of people are expected to attend the competition and tour the homes.
"We want our exhibition site to teach people about all the different parts of the house and what their functions are," Brine said. "This is about educating people and moving the building industry in a direction we want it to be going."
The competition begins June 27, 2014.
- by Kevin Stacey