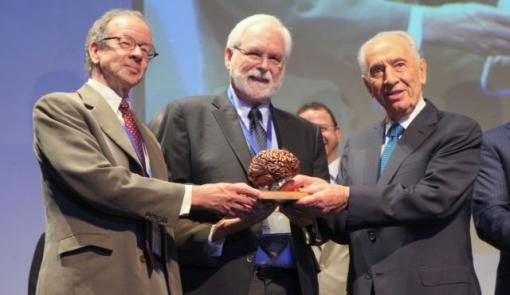 For their work to develop a brain-computer interface that could help restore independence for people with severe paralysis, Brown University's BrainGate team has won the $1-million Moshe Mirilashvili Memorial Fund B.R.A.I.N. Prize. Israeli President Shimon Peres presented the prize in Tel Aviv Oct. 15, 2013.
PROVIDENCE, R.I. [Brown University] — The team that created the investigational BrainGate brain-computer interface has won a major international award, the $1-million Moshe Mirilashvili Memorial Fund B.R.A.I.N. Prize, at a brain science technology conference in Israel Oct. 15, 2013.
Israeli President Shimon Peres presented the prize, including a bronze brain statue, to John Donoghue and Arto Nurmikko, two Brown University researchers who represented the BrainGate collaboration in the competition for the prize.
"We are deeply honored to receive this award," said Donoghue, co-director of the BrainGate team, a researcher at the Providence V.A. Medical Center and the Henry Merritt Wriston Professor at Brown, where he directs the Brown Institute for Brain Science. "It will support our continued research to help people with paralysis, some of whom cannot speak, to restore their connection to the world around them."
The prize is awarded "for a recent breakthrough in the field of brain technology for the betterment of humanity," according to a statement by Israel Brain Technologies (IBT), a nonprofit organization inspired by Peres that grants the award. The contest's panel of judges — experts in neuroscience and technology, including two Nobel laureates — considered presentations from 10 finalists before selecting BrainGate.
"The BrainGate team has worked tirelessly for years to develop an amazing technology with great promise for people with severe paralysis," said Brown University President Christina Paxson. "I congratulate them on this important recognition."
The investigational BrainGate system, initially developed at Brown and now being studied in clinical trials with partners including Massachusetts General Hospital, Stanford University and Case Western Reserve University, employs a baby aspirin-size device with a grid of 96 tiny electrodes that is implanted in the motor cortex — a part of the brain that is involved in voluntary movement of the hand and arm. The electrodes are close enough to individual neurons to record the neural activity associated with intended movement. An external computer translates the pattern of impulses across a population of neurons into commands to operate assistive devices, including robotic arms.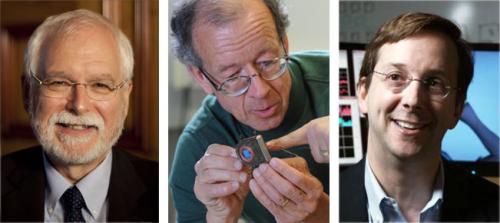 As the team demonstrated in a paper in the journal Nature in May 2012, subjects can move robotic arms to perform reaching and grasping tasks — one subject used the system to drink coffee from a bottle – by thinking about moving their own arm and hand.
More recently the team has advanced the work by developing and testing a novel broadband wireless, rechargeable, fully implantable version of the brain sensor. The prototype system, which has been tested in animal models, is designed to allow greater freedom for users of the BrainGate system, who currently must be connected to the system's computers via a cable. Nurmikko, a neuroengineer, has led the effort to develop the wireless implant.
"The prize recognizes the collection of an extraordinary group of Brown University scientists across multiple disciplines which I have been privileged to be associated with," Nurmikko said. "We work as a team unlike any other place I know."
The co-leader of the BrainGate team, Dr. Leigh Hochberg, was not able to join Donohgue and Nurmikko in Israel, as he was in New Orleans to deliver a Presidential Symposium Lecture at the American Neurological Association. He said he shared the team's excitement in winning the prize.
"All of us on the BrainGate research team are deeply honored to receive this award," said Hochberg, associate professor of engineering at Brown, a neurologist at Massachusetts General Hospital, and a researcher at the Providence V.A. Medical Center's Center of Excellence for Neurorestoration and Neurotechnology. "Our team of clinicians, scientists, engineers, and the extraordinary participants in our ongoing pilot clinical trial, continue to work every day toward developing a technology that will restore communication, mobility, and independence for people with neurologic disease or injury."
- by David Orenstein