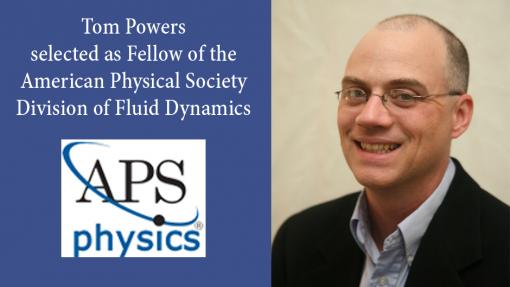 Thomas Powers, professor of engineering and physics at Brown University, has been selected as a Fellow of the American Physical Society – Division of Fluid Dynamics (APS-DFD). He will be recognized for this honor during the awards ceremony at the APD-DFD fall meeting in Pittsburgh on Sunday, November 24.

Powers is being honored for pioneering, rigorous and creative contributions to our understanding of the dynamics of membranes and filaments in viscous flows, particularly regarding the theory of bacterial motility in viscous and viscoelastic media and the role of hydrodynamic interactions at low Reynolds number.

Professor Powers received an S.B. in physics and an S.B. in mathematics from the Massachusetts Institute of Technology in 1989. In 1995, he received his Ph.D. in physics from the University of Pennsylvania. He joined the Brown University faculty in 2000 as the first holder of the James R. Rice Chair in Solid Mechanics. He was promoted to associate professor in 2006 and professor in 2012. He is currently an associate editor of Reviews of Modern Physics.

Four members of the Brown faculty are currently Fellows of APS-DFD: Kenny Breuer (2010), George Karniadakis (2004), Joseph T. C. Liu (1984), and Martin R. Maxey (2005).