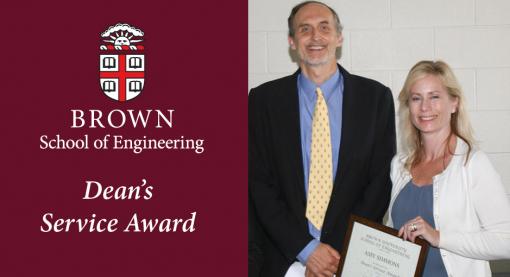 Amy Simmons, communications coordinator in the School of Engineering, has received the inaugural Dean's Service Award. The award, established during the 2012-13 academic year, was created to recognize a non-managing employee who has made a specific contribution or provided outstanding service in the School of Engineering.

Simmons has created branding and a clear identity for the School of Engineering publications through her design work in programs, name badges, signage, and website banners for engineering-sponsored conferences - creating a more unified look for the School.

She has designed informational flyers, posters and brochures for: prospective students, parents, alumni, student orientation, student groups, Career Fair, 5th year master's program, undergraduate program, graduate program, PRIME program, and corporate outreach.

She worked on and assisted in the production of two issues of the School of Engineering magazine. A skilled graphic designer, Simmons continues to look for ways to improve the magazine layout each issue.

Simmons was a key team member for Commencement. She created several materials for Commencement activities, including the first-ever PRIME Commencement program, and the Engineering Awards dinner program.

She provided professional photography for faculty, staff, and student headshots in addition to photographing and videotaping faculty labs and events (gingerbread competition, capstone projects, PRIME final presentations, class projects, SPIRA).

With another staff member, she created a user friendly 'Student Organization Proposal for Support' Google form – making the application process easier for students and administrators.

Simmons goes that extra step; she promotes the team approach by putting the School of Engineering first. She is diligent, cheerful, creative and professional. A valued member of the School of Engineering, she always goes above and beyond.