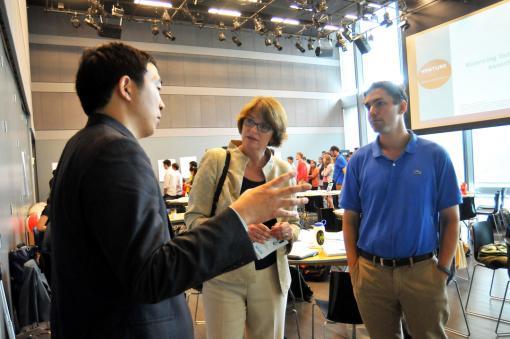 Venture for America has returned to campus for its second five-week summer training camp. The nonprofit's class of 68 fellows — up from 40 last year — participates in lectures and exercises meant to prepare them for two-year apprenticeships. Venture for America places fellows at early stage and start-up companies in economically challenged cities with the hope that they will stay and eventually start their own companies. Among the 68 fellows are five Brown alumni, including two engineering alumni,
Mehves Tangun
and
Jonathan Hills
, and
Moss Amer
, who concentrated in Business, Organizations, and Entreprenuership (BEO).
PROVIDENCE, R.I. [Brown University] — On a humid Tuesday morning in July, Englander Studio in the Granoff Center for the Creative Arts is bustling with activity. Groups of recent college graduates cluster around papers hung on the walls as they work on a breakout exercise adminstered by consultants from McKinsey & Company, who are leading a seminar titled "Balancing, Listening, and Asserting." Brown President Christina Paxson chats with the students before stepping up the podium to offer a brief welcome. "I love hearing about young students who go out and take some risks and do something different for a couple of years," she tells them.
That "something different" is Venture for America, the nonprofit founded in 2011 by Brown alum Andrew Yang that places recent college graduates who have aspirations for entrepreneurship into two-year apprenticeships at start-up and early stage companies in economically challenged cities around the country. Venture for America has returned to Brown for its second five-week summer training camp, which brings the new class of fellows to campus to prepare them for their new jobs. The camp includes an intensive schedule of lectures and exercises by industry experts from various corporations like McKinsey and Ideo.
"Brown has been a great learning and bonding environment for the fellows," said Yang. "The energy was phenomenal last year and it has continued to this year. I happen to think there's something special about Brown and how it's both idyllic and integrated into the city."
Of this year's class of 68 fellows, 13 will stay in Providence to work. Others will head to Detroit, New Orleans, Cincinnati, and Las Vegas, with fellows from this year's class also headed to Baltimore, Cleveland, and Philadephia for the first time.
"We're thrilled that the number of fellows working for startups in Providence has grown from five to 19 and believe that the numbers will continue to grow as our first fellows support growing companies and maybe even start their own — and then hire more people out of the program," Yang said. "It will take some time but we aim to have a significant impact on new business formation here in Providence over the next 10 years."
Charlie Kroll, a Brown graduate, CEO of Providence-based Andera and member of the Venture for America Board of Directors, will have two fellows working for his company once this summer's training camp wraps up. He says the fellow that joined his marketing team last year, Melanie Freidrichs, "was able to make an immediate impact. It's a real testament to VfA's training and selection process," Kroll said. Kroll agrees with Yang that Venture for America's impact in Providence will only increase as more fellows stay here each year.
Within this year's class, five fellows are recent Brown graduates and three will remain in Providence.
For Avery Hauser, it was the marriage of cities and start-ups within Venture for America that initially sparked his interest in the program. Hauser, who graduated from Brown in December 2012 with a degree in English, loved his job at a small New York City bar the summer after his first year of college, and, later, found that he equal enjoyment working as an intern for Providence-based Sir Kensington's Gourmet Scoopable Ketchup after graduation. The common thread was that both places were small enough so he was able to have his hand in many roles. "I had no idea that someone my age could have that level of responsiblity or be so involved."
Those past experiences will come in handy when he begins full-time work at Teespring following training camp. The start-up, which makes crowd-funded custom apparel, is located in Providence and was started by two former Brown students — another aspect of the company that greatly appealed to Hauser. "I love working with Brown alums. There's a certain ineffable mentality that you step in there and and we're all speaking the same language." Hauser, who started at Teespring in February, has done everything from hiring the customer service team to writing press releases and expects his role to continue varied. Hauser said training camp has been a "whirlwind," and that he especially enjoyed the two-day seminar with consultants from the Boston-based firm Ideo, who walked fellows through their design process by leading them through Providence and helping them to identify problems and come up with potential solutions. "It was a way of looking that I do naturally but hadn't identified as such. Whenever someone gives you a new lens or new way of seeing, it's always fantastic."
If someone had told Mehves Tangun that she'd be headed to Cleveland after graduating from Brown this spring, she wouldn't have believed it. The industrial economics and engineering concentrator had her heart set on a bigger city like New York or Boston. But when she learned about Venture for America through her mentor and adjunct lecturer in engineering Danny Warshay, she decided to give it a shot. She says she couldn't be more excited with her decision. Following the training camp, she's headed to Linestream, which creates software to enhance the efficency and performance of semiconductor providers. There, Tangun will work on the sales and marketing side of the company, gaining the B2B experience that she was looking for. For now, Tangun says that the training camp is forcing her to work harder than she ever has but it's preparing her well for what lies ahead. "They're trying to teach us as much as possible so that we know what to expect when we get to our jobs." One of the things that Tangun is most grateful for is the network the camp is allowing her to build. "It's a program that really encourages people to start their own company because they not only give you the experience, they give you the network and the resources, so it's all on you."
Coming out of Brown this spring, Moss Amer knew that he wanted to do something that would help others in some way. So when he heard about Venture for America through a friend who participated last year, the mission strongly appealed to him. Now a fellow himself and headed to Maryland Technology Development Corporation (Tedco) in Baltimore, Amer is also glad he'll be able to put his double concentration in public policy and business, entrepreneurship and organizations to good use. The public/private partnership works with Maryland research universities and labs to bring their technology to market. Amer will be screening companies that buy new technologies and managing Tedco's relationship with its portfolio companies. Amer describes the training camp as both "challenging and engaging," particularly a 48-hour website design challenge that was given to them on the second day of camp. While he's unsure what the future may hold, he's open to starting his own company some day. "I believe that programs like VFA give you the tools to seize an opportunity when it's presented to you. I'll always have these tools, so if at any point I see an issue that matters to me that's salient and that I think I can do something about, I can jump on that and start my own company."
Jonathan Hills has always loved building things. The 2013 Brown graduate concentrated in mechanical engineering with a RISD dual degree in furniture design and even created his own furniture collection for his senior project. But he always felt he was lacking knowledge on the business side: "I learned how to take an idea to a finished product, but it stopped there." So when he learned about Venture for America, he felt like it was a good opportunity to gain some of the skills he felt he was missing. Hills says the training camp is meeting his expectations so far, noting that the hard skills he's gained in finance and creating a business model have been especially helpful. When camp ends, Hills will be staying in Providence, working for medical device developer Ximedica, putting his engineering skills to good use on the design side of the company. "I'm excited to be exposed to both the design process on a commercial scale and the manufacturing on a much larger scale than what I've seen in school."
Zoe Chaves spent much of her time at Brown thinking about how best to help a city thrive and how various stakeholders can each play a role through the classes she took as an architectural studies concentrator focusing on urban planning. "When I heard about VFA and how they articulated that so well, I was just sold, almost instantly," says the 2013 Brown graduate. Chaves will remain in Providence after training camp to work at Splitwise, a start-up that creates online tools to help people track and pay bills and other shared expenses. Chaves' formal role is on the business and marketing side, but she expects additional responsiblities as well. "Since I'm only the fifth person to the team, I'll have a hand in everything, which is really exciting to me." Chaves says she, like Hauser, gained a lot from the Ideo session, particularly their idea of building empathy with the user. "I really loved that idea of understanding what people want and need and how they're going to navigate through something. I think it's going to help me a lot at Splitwise and also just life in general."