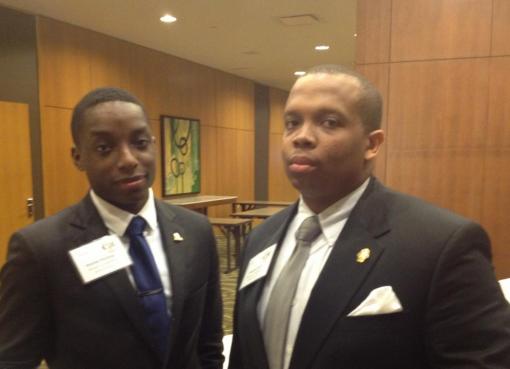 The GE/Alpha Phi Alpha College to Corporate (C2C) Leadership Forum launched its fourth conference at GE's Capital-Kettering and Aviation Headquarters in Cincinnati, Ohio. Among the particpants were Ricardo Mullings '15, who is pursuing a concentration in mechanical engineering, and Dwayne Parris '13, who concentrated in political science.
The partnership between GE and Alpha Phi Alpha Fraternity brings together several top talent collegiate members and top GE executives for leadership development, mentoring, and career advisement. The creative diversity recruiting initiative is sponsored by Darryl Wilson, Vice President and Chief Commercial Officer, GE Distributed Power and chaired by Tony Washington, GE Aviation Durham HR Leader and Darryl Johnson, GE Aviation EIS Strategic Customer Program Leader. Dmitri Stockton, President & CEO GE Asset Management, Raghu Krishnamoorthy, Vice President Human Resources GE Aviation, Ernest Marshall, GE Aviation Senior Human Resource Executive & AAF Operating Leader, Greg Pittman, Vice President Sales Optimization GE Capital Retail Finance, and Catrina Harding Senior HR Leader GE Capital Retail Finance Sales hosted more than 70 students, GE leaders, and external guest speakers at this event.
"I was so impressed with all the young men that I met in Kettering that participated in the GE / Alpha Phi Alpha College to Corporate Initiative," said Dmitri Stockton. "They were a highly engaged group that had outstanding credentials from schools like MIT, Morehouse, Vanderbilt and Brown with majors that spanned engineering to business. Darryl Wilson from GE Distributed Power, who launched this program several years back, has done a terrific job mobilizing the resources across the company to mentor these students and translate these interactions into internships and full time hires."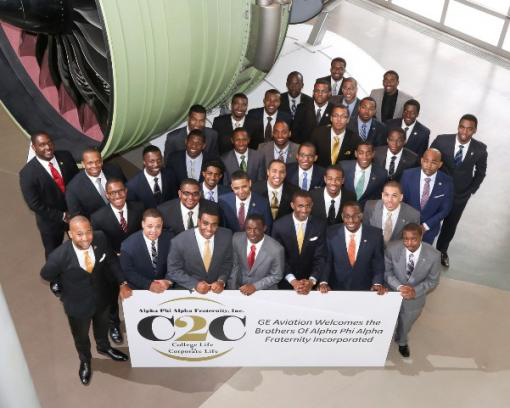 The GE/Alpha C2C Leadership Forum was attended by 36 collegians screened based on GE leadership traits and resulting an average GPA of 3.4. The four-day program is designed to develop the next generation of 21st century corporate leaders and provide participants with tools, resources, and a network of GE leaders to help facilitate the transition from college to corporate while creating a diverse pipeline for GE's corporate leadership programs.
Supporting the fraternity's ideals on community service and higher education, the C2C class conducted a Science, Technology, Engineering and Mathematics (STEM) workshop for more 20 middle and high school students that are mentees of Alpha Phi Alpha's local Cincinnati Alumni Chapter.
The GE/Alpha C2C Leadership Forum launched its inaugural class in 2011. The recent class yielded over 20 C2C participants transitioning into GE EID or Leadership Program roles across multiple GE business with additional participants being considered for direct hire opportunities. Following the program, both Mullings and Parris received interships with GE. Mullings is currently working as a life cycle reliability engineer in GE Power and Water, while Parris works within GE Home and Business Solutions.
The following schools were represented by the C2C participants: Alabama A&M, Albany State, Brown, Clemson, Dillard, Duke, Florida A&M, Georgia Tech, Indiana, IUPUI (Indiana-Purdue), Kentucky State, Michigan, Michigan-Dearborn, Miles College, Minnesota, M.I.T, Morehouse, Northern Kentucky, Ohio State, Oklahoma State, Philander Smith, South Carolina-Upstate, SUNY Plattsburgh, Syracuse, Texas-Austin, Vanderbilt, Virginia Tech, Wayne State, Western Michigan, and Wisconsin-Madison.
Alpha Phi Alpha Fraternity is the first intercollegiate Greek-letter fraternity established by African-Americans. It was founded at Cornell University in Ithaca, N.Y., on December 4, 1906 and develops leaders, promotes brotherhood and academic excellence, while providing service and advocacy for our communities.

- Portions of this article courtesy of GE Communications