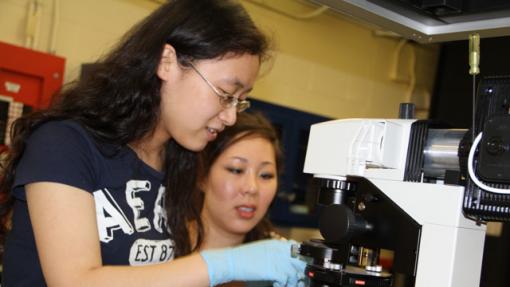 They started with revolutionary technology: a biochip developed by Assistant Professor Domenico Pacifici that may eliminate the need for diabetics to draw blood. Then, four students from the School of Engineering's Program in Innovation Management and Entrepreneurship (PRIME) master's degree program—Jenny Yu, Lu Liu, Xinming Shi, and Jing Feng—formed Team Optitrum to market it. They entered their team in the Rhode Island Business Plan Competition, becoming one of only three—out of 77 teams (in the student track)—to compete in the finals. Recently, two members sat down to talk about it.
Jenny: Our team wanted something both technology-focused and medically based for our capstone project.
Jing: Since I work in Professor Pacifici's lab—I'm part of the open graduate program, with a master's in PRIME and a hoped-for Ph.D. in electrical engineering—we decided to focus on his biochip.
Jenny: We first had to decide where we thought the biochip—which senses and measures all kinds of fluids—might do the most good. We looked at oral and pancreatic cancer detection, but decided that evidence didn't support early detection equaling a higher cure rate.
Jing: And water safety testing, particularly in developing countries.
Jenny: But, ultimately, we chose diabetes. Just in the United States, each year close to 15,000 kids are diagnosed with type 1 diabetes and another 3,700 with type 2. So easily more than 154,000 kids are living with it now.
Jing: Plus the millions of adults living with type 2 diabetes.
Jenny: Our first marketing strategy was geared towards parents of kids with diabetes. What parent wouldn't want their child to avoid the pain of pricking his finger? And type-1 diabetics are often asked to check their glucose levels up to 10 times a day.
Jing: The biochip is part of a handheld, non-invasive glucose meter that uses a small saliva sample from the mouth instead. The results are almost instantaneous.
Jenny: And we found out that many diabetics re-used their test strips, giving them inaccurate readings. But our biochip can be reused up to 50 times—you just rinse it off with water after each use.
Jing: We're all very passionate about this product!
Jenny: And about the PRIME program. It's great because they teach you to respect the technology, but not get too involved with it. Focus on the bigger picture. They even coach you in public speaking so that we can more easily promote our products.
Jing: A number of technologies are developed that never make it into the world. That's where the programs that support entrepreneurs—like this one—come into play.
Jenny: Entrepreneurship is exciting because it challenges you to think creatively outside the set protocols to solve the problems you face.
Jing: And when you learn how to commercialize technology, you can change people's lives. That's the dream of every engineer.
6/18/13 Update from Jenny: Currently, we have completed multiple, working alpha prototypes, and we are in the process of testing the accuracy of these prototypes against traditional glucose meters.
PRIME students learn to use emerging science and technology as a basis for the creation of commercial value and new ventures. The program—which just graduated its largest-ever class—offers students a strong grounding in how to start and grow a technology-based business in a dynamic, competitive marketplace, transitioning them into future leaders.